Chancellor Becton greets students staff and faculty at reception
---
Kesha Williams
July 08 2013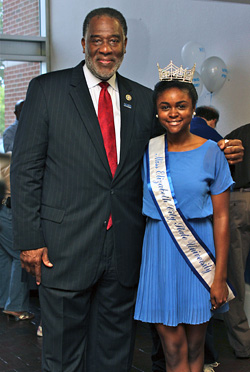 Early on July 1 students staff and faculty gathered in the lobby of the Marion D. Thorpe Administration Building to greet Chancellor Charles Becton a former NC Court of Appeals Judge who also served as interim chancellor for North Carolina Central University earlier this year.
ECSU is one of several institutions of higher learning where Becton has worked. Becton also has taught and lectured at trial advocacy skills institutes across the U.S. and beyond. Prior to becoming interim chancellor at NCCU he was the John Scott Cansler Lecturer at the UNC-Chapel Hill School of Law and a visiting professor of the practice at the Duke University School of Law. In 2010 he served as the Charles Hamilton Houston Chaired Professor of Law at the NCCU Law School.
Last Monday Becton said he was excited about the opportunity to work with dedicated faculty and staff and to help them prepare students for a challenging workforce.
&quotI want to help this university get even better. My focus is not to create five or six new initiatives but to follow through on things the university is doing well. I want to make sure we do them even better&quot Becton said.
&quotI want to make sure the university continues on course. My focus will be retention and graduation for the 2013- 2014 year. We all can do a better job of preparing students for competitive global marketplace they will work in.&quot
The new chancellor said he had the pleasure of meeting some alumni Monday who work at the university and he looks forward to working with alumni locally and throughout the alumni chapters. He is scheduled to greet many alumni later July 19 – 20 when they convene for the 43rd alumni association convention in Elizabeth City.
Read more of Chancellor Becton's biography online.
---