Chamber of Commerce Recognizes Teachers of the Year
---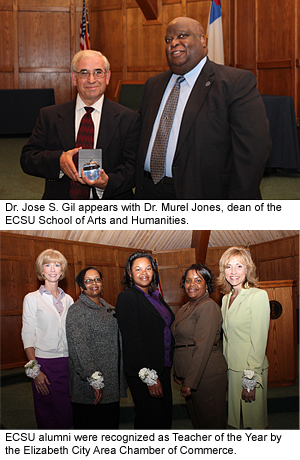 Kesha Williams
May 10, 2011
The Elizabeth City Area Chamber of Commerce recently recognized Elizabeth City State University Professor Dr. Jose S. Gil and five ECSU alumni at the chamber's annual Teachers of the Year Ceremony.
The ceremony, held May 4 at Mid-Atlantic Christian University by the Chamber of Commerce's Education Committee, highlighted the accomplishments of outstanding teachers from across the area. Educators from ECSU, Albemarle School, Camden County Schools, College of the Albemarle, Elizabeth City-Pasquotank Public Schools, Mid-Atlantic Christian University and New Life Christian Academy were recognized during the ceremony.
Dr. Gil, a professor in the Department of Language, Literature and Communication, is a nationally and internationally renowned scholar and linguist. He joined ECSU in mid-2000.
Earlier this year, he won the University of North Carolina Board of Governors Award for Excellence in Teaching. It is the UNC system's highest teaching honor and is given annually to a faculty member from each of the 16 public institutions in the UNC system. The ECSU professor who wins that award automatically receives the Chamber of Commerce's Teacher of the Year award for ECSU.
The five ECSU alumni who also received the chamber's Teacher of the Year recognition were Elaina Lawson ('97) from Pasquotank County High School Crystal Bonner ('96) from J. C. Sawyer Elementary School Melanie Whidbee ('04) from Central Elementary School Sharon Brown ('95) from College of the Albemarle and Amy Spencer ('01 and '11) Pasquotank Elementary School.
---