Cadet Ashley Smith becomes first female Battalion Commander in nearly a decade
---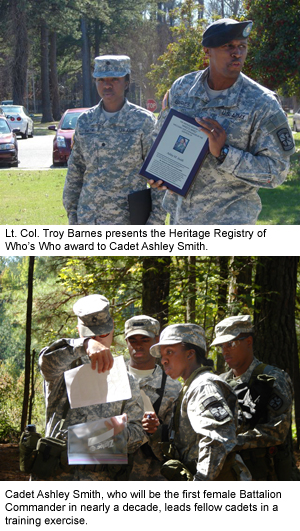 Kesha Williams
March 21, 2011
Life is a series of opportunities either seized or missed.
Ashley Smith, a 24-year-old cadet in the Reserve Officer Training Corps (ROTC) at Elizabeth City State University, seized a precious opportunity to earn a college degree when she received a scholarship.
Her four-year stay in the Army was put on hold when she received the scholarship from the Army's Green to Gold program. The program allows active duty personnel to pause two to four years to complete a college degree program and earn a commission as an officer. The enlistee enrolls in a university ROTC program, where tuition, room and board often are free with the Green to Gold program scholarship. Monetary assistance also is provided for textbooks.
Smith searched for an Historically Black College with a good graduation rate, strong academic programs and located near her family in Northern Virginia. She selected ECSU.
Once enrolled at the university, she entered the ROTC program and competed with other cadets, who are four to six years younger, for a series of highly sought-after posts. Today, she stands tall among them.
Smith earned the award for U.S. Armed Forces ROTC cadets from the Heritage Registry of Who's Who. The award is based on academic performance and physical fitness. A panel of ROTC cadre at ECSU nominated her for the award.
Last October, she competed in the Ranger Challenge, an annual ROTC competition between colleges and universities designed to build and refine all the attributes that define a warrior and a leader. To join the ranks of this elite group and rich heritage, cadets must be the best in a number of areas.
Teams from 42 schools participated in the four-day challenge at Fort Pickett, near Blackstone, Va. It was the second time Smith had participated in the event. Teams completed a written exam and a series of strenuous physical drills and physical fitness exercises. In many cases, the cadets were required to complete the task or drill in a limited amount of time. Some tasks challenged the cadets to carry out drills while carrying heavy backpacks. Others were completed while cadets navigated through the woods.
Smith was the lone female on her team of nine cadets. She did exceptionally well on the physical fitness test and exceeded what is usually the highest score of 300 points.
Academically, Smith keeps busy with classes that are part of her major in business administration. On March 31, she will be inducted into Beta Gamma Sigma, an honor society for business students. Smith admits that living on a college campus called for some adjustments, particularly after serving at Army bases in Iraq and in several major American cities.
&quotROTC is so empowering because you are training to become an officer,&quot Smith said. &quotThere is such a stigma attached to the military and some women think they can't thrive in the military, but they can.&quot
She noted the friendliness of people at ECSU and the lessons from being on active duty that she carries with her.
&quotEarning a degree was my personal goal, so I am glad I came,&quot she said. &quotI had some leadership responsibilities while serving active duty and learned that you must be resilient and have tough, thick skin,&quot Smith said. &quotI came from a military family. I enjoy it (the military) because you can go into so many different fields and request additional training for those fields.&quot
Lt. Col. Troy D. Barnes, professor of military science at ECSU, reassures prospective female cadets that women do excel in the Army. He is so confident in Smith's skills that she has been recommended for Cadet Battalion Commander. She would be the first woman to hold the position in nearly a decade. The position is reserved for the student who has excelled in academics, physical fitness and leadership.
&quotShe is a good choice for all those reasons,&quot Barnes said. &quotShe demonstrates the ability to get the job done as an individual, and she motivates the team, the battalion, to accomplish the team mission. I am confident that she will meet and exceed all expectations of any female or male who has previously served as cadet battalion commander.&quot
The post will last one year. Smith will oversee 80 cadets in the ROTC program. She is scheduled to graduate in 2012. At that time, she can serve as an officer either on active duty or in the U.S. Army Reserves.
---