Britney Spence is the Spring 2019 Bearer of the Mace
---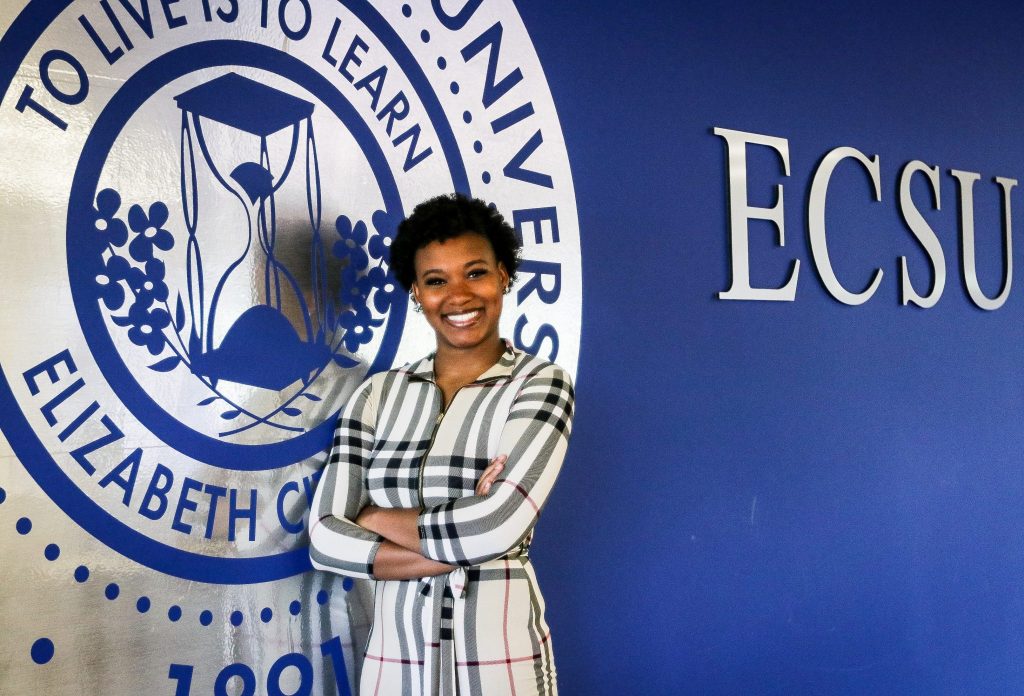 When graduating senior Britney Spence received her blazer for the Chancellor's Distinguished Emblem Award during Honors Convocation last month, she thought there was a chance she could be named Elizabeth City State University's spring 2019 Bearer of the Mace. But then, she said, there was another student more likely to receive the honor and she put the thought out of her mind.
However, Spence was wrong about that. As of Thursday morning, May 9, Spence, an elementary education major, is Bearer of the Mace with a GPA of 3.893. ECSU's Bearer of Mace has the highest grade point average of an undergraduate, non-transfer student earning all credits at ECSU.

She says because this honor was not something she was necessarily expecting, a quote from her church's "affirmation" came to mind.
"Because I am a child of the king, I will receive the royal treatment," she said, explaining that this honor is a blessing and that it is the "royal treatment."
Spence is an Elizabeth City native who graduated from Northeastern High School in 2015. She became an ECSU Viking the following fall, and declared that her major would be accounting, despite her desire to become a teacher.
Spence recalled that people told her there is no money in teaching; she needed to find a career path that would be more financially prudent. But in her heart, Spence is a teacher.
"I was taking accounting classes and they were boring," said Spence. "I was working at a day care and I have a passion for children and realized that this is where I want to be."
So Spence switched her major to elementary education and she couldn't be happier with the decision.
Spence recently completed a yearlong student-teaching internship. Like all future teachers graduating from ECSU's education program, the 22-year-old Spence had to spend her fall semester observing in the classroom, and her spring semester actively working under a teacher, teaching schoolchildren.
In this case, Spence worked as a student teacher at Elizabeth City's Northside Elementary. She taught in the second grade and said her experience was "great" and she's excited to start her career as a teacher.
"I want to teach at Northside," she said. "That's where my heart is."
Spence says looking back on her time at ECSU, she regrets not becoming more involved in the campus social life, and joining clubs. She says overall, however, the people on campus have become her family.
"I've had a lot of support," said Spence.
As she prepares to walk the stage Saturday, and receive her diploma, Spence has a word of advice for students still working on their degrees, and to those who have yet to become a part of the ECSU family: Work hard.
She reflected back on last fall when she lost her brother. Spence says that experience opened her eyes and gave her a new outlook on life.
"Always push yourself further," said Spence. "Even if you feel like a broken person, push yourself."
---