Brenna Daniel Follows Her Aviation Dream at ECSU
---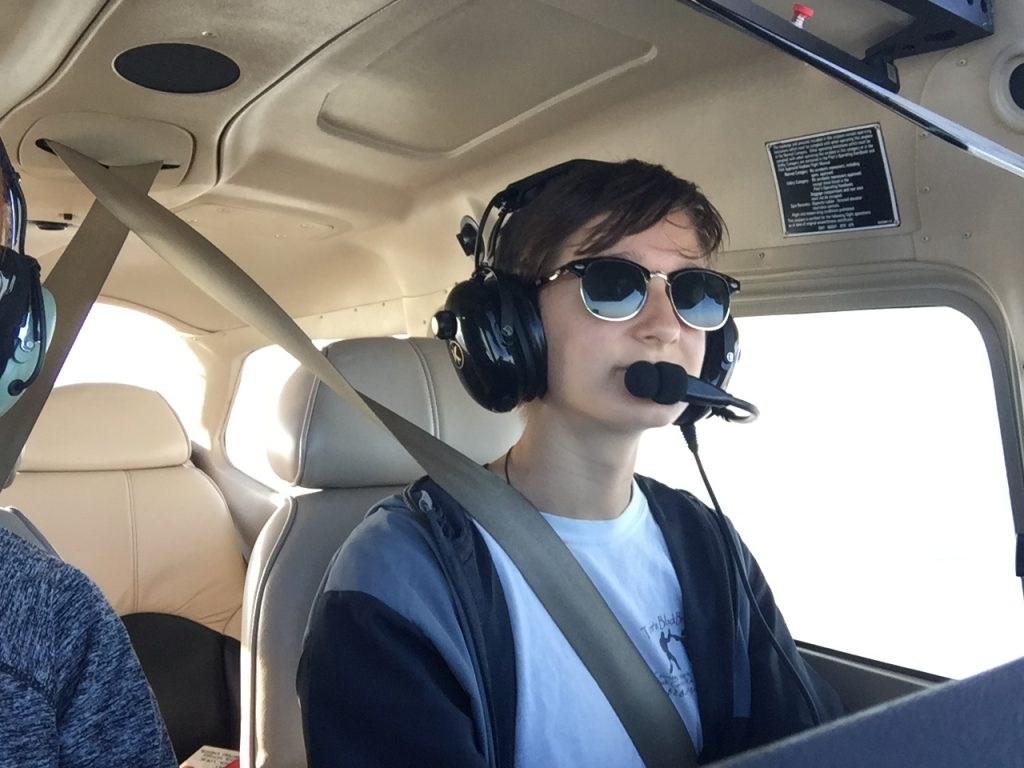 Brenna Daniel is an aviator. It's been a dream for the recent Elizabeth City State University graduate and thanks to the university's signature aviation program, a degree in aviation science and her pilot's license, Ms. Daniel is ready to take the next steps on her journey.
"I had mentioned flying lessons to my parents but never very seriously," she said. "It sounded expensive and unfeasible."
Ms. Daniel says she was planning on majoring in English at a college near her home in Western North Carolina. But late in her senior year of high school her father, State Sen. Warren Daniel, had heard from a colleague that ECSU has an aviation degree program.
"He said it was the only school in the state that offered a four-year degree alongside pilot training," said Ms. Daniel. "It was very last minute, but I applied as soon as I could and was accepted."
Brenna Daniel, accompanied by her mother Lydia, toured the campus and the nearby airport where ECSU houses its 11 aircraft, and she was, she says, "hooked."
"Until hearing about ECSU's aviation science degree and flight school, becoming a professional pilot never seemed realistic, so I'm thankful I found it," she said.
Ms. Daniel's mother and father both say they're "glad our daughter decided to attend ECSU." Her mother says there are a number of positive things about ECSU that have contributed to their daughter pursuing her aviation dream.
"We are greatly appreciative of the … amazing value of a bachelor's degree due to NC Promise;" says Mrs. Daniel, "the investments of time and expertise of the faculty into the lives of students; the exemplary leadership of Chancellor Karrie Dixon; the atmosphere of a smaller school with the opportunities of a flagship university; (and) a private pilot certification at a great price. "
For Brenna Daniel, the degree and the pilot's license have opened her up to the next step in her journey. Like other aviation graduates before her, Ms. Daniel plans to return to ECSU to be a flight instructor, not only to share her experience with other students, but also as a means to earn needed flight hours that will aid her in future plans as an aviator.
"Over the summer I plan to earn my flight instructor certification and apply for a job at ECSU," she said. "My first instructor was also an ECSU grad and an amazing teacher. I love the idea of students becoming the instructors, turning around and teaching the next set of pilots. While working at the school I will also be building up the time required to apply for an airline pilot position. I am hoping to work for American Airlines."
Sharing that experience and enthusiasm for flight and ECSU is important to Ms. Daniel. It's a genuine enthusiasm that comes from many days when she excitedly drove from campus to the airport to prepare for flight training, she said.
"Driving out to the airport, pre-flighting my plane and spending a couple hours improving my skills as a pilot was always the best part of my week," she said. "One of my best memories is my first solo. I had trained for several months and fulfilled all the requirements to solo, but my instructor hadn't endorsed me yet."
Ms. Daniel says that during her time as a student, she has watched the aviation program grow. She says the faculty have also been instrumental in her success as an aviator and recommends that students looking to follow her flight path be prepared to study and work hard. This is, she says, a comprehensive program that will prepare them well for a future in aviation.
"Being a pilot is not about showing off to look cool, it's about developing your leadership skills and growing in personal responsibility," she said.
---