Board of Trustee Member is Number One Band Booster
Posted On August 31, 2016
---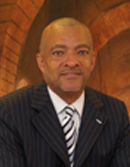 Elizabeth City State University Board of Trustees member Kim Brown may have graduated from Norfolk State University, but these days his heart bleeds Viking blue. Brown is a bishop with The Mount, a Chesapeake, Virginia-based church, and he has become one of the Viking Marching Band's biggest boosters.
Earlier in August, the charismatic Brown spent over an hour with the band, delivering a motivational speech. Late in August, he announced during a church service that he will be donating significant funds, earmarked entirely for the marching band, says band director Juliette Boykins.
Boykins, a member of Brown's church and a lifelong family friend, says the donation is more than $6,400. And while the money will go a long way toward helping the Viking Marching Band, it was perhaps his message to members of the band that will reach further to assist in the success of the student musicians.
Standing before the band inside the Fine Arts Building on the ECSU campus, Brown grabbed the attention of the students who only minutes before had been practicing for the first game of the season, against NSU.
While Brown did not stand before the students as a preacher, it was clear that his role as a pastor informs his ability to capture the attention of packed room. He understands, he said, what it means to find your calling and make a mark on the world.
Part of the message Brown delivered to this group of student musicians is that it is important they follow their calling. Everyone, he says, has a calling and while he knew at a young age that he was being called to be a minister, Brown says he wanted to be an engineer.
"I knew God wanted me to be a preacher, but preachers were broke," he said.
And so his decision to become an engineer was based, he said, on the "wrong stimuli."
"What I discovered at your age was that I was making decisions and defining success the wrong way," he said.
Brown was defining success based upon monetary gain, yet he knew that would not work in the end. He explained that each of us has an "assignment." The key is to find that assignment and pursue it. One litmus test, he said, is to ask yourself what comes natural to you.
"If Oprah Winfrey offered you a bunch of money what would you get and do every day?" He said. "Whatever you would do for free, that's your assignment."
But no matter what your assignment might be, Brown says there are three types of people in the world, and only one of them will leave a permanent mark.
To illustrate his point, Brown held up a yellow highlight marker. Some people, he said, are highlighters. It makes no real mark of its own. It just highlights the work of others.
The second type is the erasable marker. This person goes out and makes a mark, but someone else will come behind, and erase it from memory.
It is, he said while holding up a black permanent Sharpie pen, the third type of person you should strive to be.
"If I die today put on my tombstone, 'He made a mark that cannot be erased,'" Brown said.
Go out in the world, out onto the playing field to perform, and be the best you can be, he told band members. Be respectful of your competition, but let them know you are the best by your actions, your performance.
"Walk out with pride onto the field and other schools will ask, 'Who do they think they are?'" said Brown.
Brown emphasized the importance of being a part of the solution, and making a decision to be successful.
"Everybody in the room is a solution to a problem," he said. "What solution am I here to help solve? If you can answer that, you have found your calling."
---