Board of Governors Approves $2.3 Million Appropriation for ECSU
---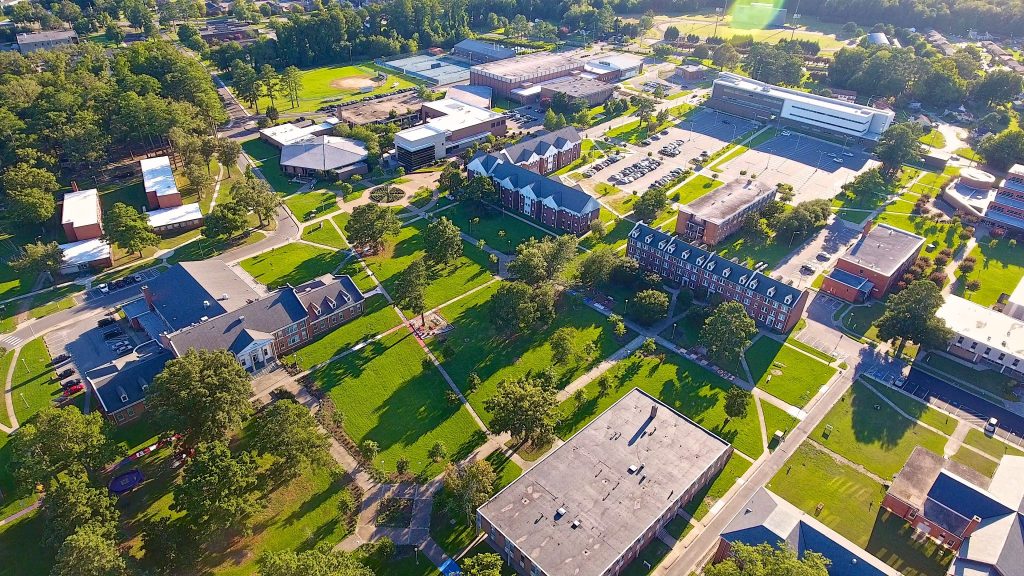 This image of the campus of Elizabeth City State University, shot from a drone, shows the ongoing improvements to the institution. The repair and renovation funding will serve to continue that work.
The University of North Carolina System Board of Governors has approved the appropriation of $2.3 million for Elizabeth City State University, the largest allocation of repair and renovation funding for the institution in over a decade.
During its July meeting in Chapel Hill Friday, July 27, the Board of Governors approved the funds for repair and renovation on the ECSU campus.
"This is great news for the University," said ECSU Interim Chancellor Dr. Karrie Dixon. "This is the largest percentage of the UNC Systems repair and renovation funding pool that ECSU has ever received, and the largest increase since 2007."
Board of Governors Chairman Harry Smith has been working with ECSU as a member of the New Directions: Phase 2 Working Group, launched last fall. Smith, a Greenville-based businessman, has helped steer ECSU toward campus-wide improvements, including his support for renovations and repairs.
"This funding will go a long way toward the future of ECSU," said Smith. "The Board of Governors has confidence in the University's new direction, and in its leadership under the guidance of Dr. Dixon."
Governor Darrell Allison also voiced his support for the appropriation and is excited that ECSU is receiving a level of funding it has not seen in over a decade.
"This tangible support from the state demonstrates that the UNC Board of Governors are serious about our overall investment strategy for ECSU," said Allison. "Moreover, it's important to note that but for the strong advocacy demonstrated by Dr. Dixon on behalf of ECSU, I don't think that support at this level materializes. It cannot be overstated enough that Dr. Dixon and her leadership team have been exceptional during this entire process."
ECSU Board of Trustees member, and alum, Harold Barnes, attended the Board of Governors meeting. Barnes, who was a member of the Working Group, said he was excited about the governors' commitment to ECSU.
"In witnessing the Board of Governors' approval of $2.3 million in Repair & Renovation funds, I want to thank the System office and the governors on behalf of Chairman Kim Brown and the ECSU Board of Trustees," said Barnes.
Dixon said the ECSU community is grateful for the confidence and support shown by the governors.
"I would like to thank President (Margaret) Spellings, the UNC Board of Governors, and the ECSU Board of Trustees for their support," said Dixon.
---