Blues Legends Get Iconic Treatment in ECSU Graphic Design Professor's Mississippi Delta Mural Project
Posted On February 19, 2021
---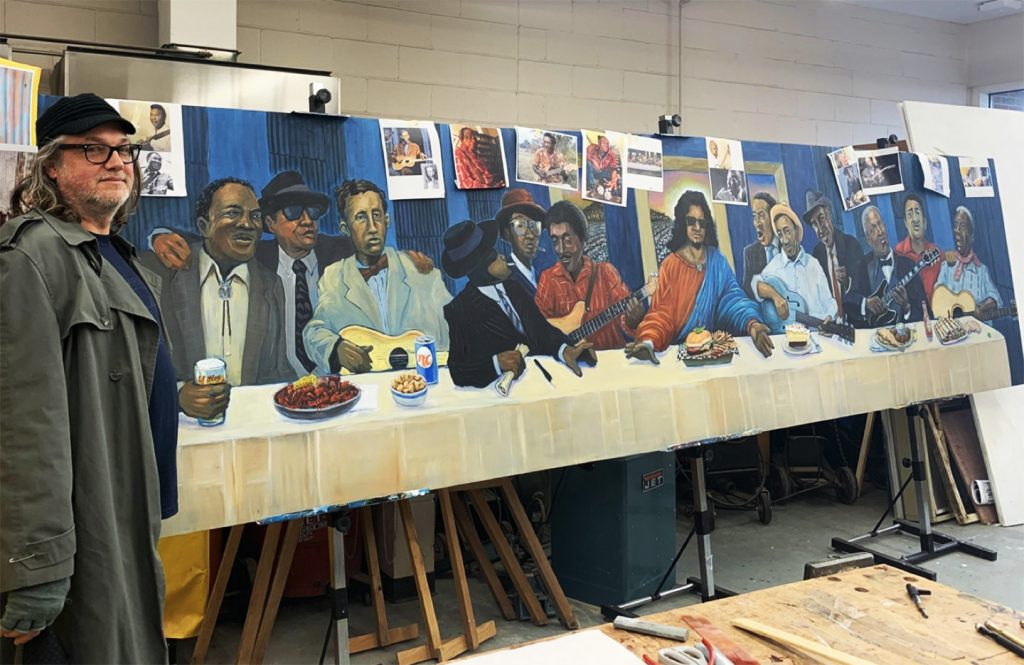 Graphic design professor, John Stiles, is creating a mural honoring the legends of the blues. The mural will head to its permanent home in Cleveland, Mississippi next month.
John Stiles is celebrating the blues. The Elizabeth City State University graphic design professor is interpreting a little bit of blues history with an eye on an old artistic master, creating a 16-foot by four-foot mural that will be home in the Mississippi delta soon. 
Mr. Stiles is working on a mural featuring a number of blues music legends, mimicking Leonardo Da Vinci's iconic fresco, "The Last Supper," and just like the Renaissance-era artwork, Jesus is at the center of the gathering.
The mural is currently a work in progress, being created inside the ECSU sculpture studio in the Mickey L. Burnim Fine Arts building. When Mr. Stiles isn't teaching in-person and online classes, he's working on the mural that will be a featured attraction outside a popular blues joint in Cleveland, Mississippi.
"I started painting over the winter break," said Mr. Stiles. "I thought it was an appropriate tribute to Black History Month, although I won't take it down there until March."
The Mississippi establishment is Hey Joe's, a place where fans of the music flock to hear blues jam sessions. When Mr. Stiles taught at Delta State University, he got to know the owner and the idea was proposed to the artist.
Hey Joe's owner had seen a similar mural in Texas, featuring Lone Star State legends. He asked Mr. Stiles to create this work, highlighting some of the blues most legendary musicians.
Like the iconic Da Vinci fresco, Jesus is surrounded by 12 men seated at a long table. In this case he is joined at the table by, left to right, Muddy Waters, John Lee Hooker, Charley Patton, Robert Johnson, Pinetop Perkins, R.L. Burnside, Howlin' Wolf, Son House, T Model Ford, B.B. King, Junior Kimbrough, and Lead Belly.
"Robert Johnson is Judas because he's said to have sold his soul to the devil," said Mr. Stiles.
Famed blues master Robert Johnson was said to have met Old Scratch, or the devil, at a crossroads in the Mississippi delta. It was there that, as the legend goes, he sold his soul in exchange for becoming the greatest blues musician alive.
The imagery in the mural goes beyond the famed musicians to celebrate the delta region of Mississippi. On the table the men are surrounded by food and drink specific to the region and behind them, through a window, you can see fields of cotton, the region's iconic agricultural staple.
Mr. Stiles says when he began the project, he wasn't familiar with all of the musicians. So, he downloaded their music, put on a set of headphones, and listened to their distinct sounds while he painted. 
He said that experience has broadened his understanding of their immense influence on modern music, especially so much popular rock and roll today.
Before teaching graphic design, Mr. Stiles worked in the industry, designing for high-profile clients such as the NFL. He had earned a bachelor's degree in communication design at East Carolina University. When he determined he would teach, Mr. Stiles went on to earn a master's in graphic design from Savannah College of Art and Design.
---