BEEP guests visit ECSU business students
Posted On February 19, 2010
---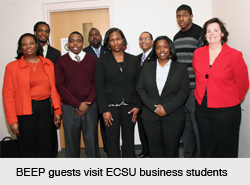 Kesha Williams
February 19, 2010
Faculty and staff in the Walter R. Davis School of Business and Economics welcomed six guests for a series of events held during their annual Black Executive Exchange Program (BEEP). Over three days, the executives visited classrooms to discuss the skills students will need to become the sophisticated and well-prepared employees that corporate America and its global competitors are seeking.
BEEP brings successful African Americans from the public and private sector to historically black colleges and universities to share their experience and expertise with students.&ampnbsp This year's program was held February 17-19. Guest executives included:
Irvin Johnson, Senior HR Mgr., Office Depot
Terrell Calloway, Branch Mgr., Wachovia
Lisa Gardner, Customer Services IT Subject Matter Expert, CIA
Rod Adkins, Diversity Recruiter, Sherwin-Williams
Dawana Riddick, Market Asset Protection Mgr., Wal-Mart
Tracy Boleware, Vice-President, BEEP
A list of student hosts follows:
Markus Brooks, student coordinator
Michael Benton, student host
Gerald Burgess, student host
Mia Mintz, student host
Tichelle Harris, student host
Tavera White, student host
Jarrod Jones, student host
Winnie Wiseman, the business internship coordinator for the Walter R. Davis School of Business and Economics, said BEEP provides professionals and corporations an opportunity to help credentialed African-American college students achieve their goals.
---