Becton to Serve as Interim Chancellor of Elizabeth City State University
---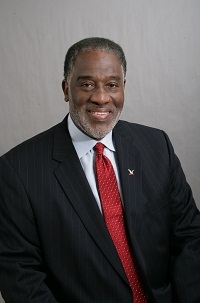 Joni B. Worthington
May 24, 2013
ELIZABETH CITY, NC — UNC President Tom Ross announced today that former NC Court of Appeals Judge Charles L. Becton, who is completing a ten-month assignment as interim chancellor of North Carolina Central University, will become interim chancellor of Elizabeth City State University on July 1. Becton will succeed Willie Gilchrist, who last week announced that he will retire from the University on June 30 after nearly seven years in the post and four decades in public education.
In announcing Becton's appointment, President Ross said: &quotJudge Charles Becton is known and respected throughout the state of North Carolina for his sound judgment and ability to get things done. As he has demonstrated yet again during his tenure as interim chancellor at NCCU, he tackles every challenge handed to him with full commitment, great passion, and absolute integrity. I can think of no one who is better qualified to lead ECSU during this time of transition, and I am grateful that he has accepted this new assignment.&quot
Born in Morehead City and raised in Ayden, Becton earned his undergraduate degree at Howard University and holds law degrees from Duke University (J.D.) and the University of Virginia School of Law (LL.M.). He began his legal career in 1969 with the New York-based NAACP Legal Defense and Educational Fund and joined the Charlotte law firm of Chambers Stein Ferguson &amp Lanning the following year. He soon helped establish the firm's Chapel Hill office, where he practiced until being appointed to the North Carolina Court of Appeals in 1981. Becton remained on the appellate bench until 1990, returning to private practice with the Raleigh law firm of Fuller, Becton,
Slifkin &amp Bell.
Becton also has taught and lectured at trial advocacy skills institutes across the U.S. and beyond, and prior to becoming interim chancellor at NCCU, was the John Scott Cansler Lecturer at the UNC-Chapel Hill School of Law and a visiting professor of the practice at the Duke University School of Law. In 2010, he served as the Charles Hamilton Houston Chaired Professor of Law at the NCCU Law School.
Becton has served as president of the NC Association of Black Lawyers, the NC Academy of Trial Lawyers, and the NC Bar Association. His many awards and honors include NC Appellate Judge of the Year the Justice William J. Brennan, Jr. Trial Advocacy Award the Roscoe Pound Foundation's Richard S. Jacobson Award and the NC Academy of Trial Lawyers' Trial Advocacy Award, which was named in his honor. He and his wife, Brenda, have three adult children.
The ECSU Board of Trustees will be asked to form a search committee of trustees, faculty, students, and alumni to help identify a permanent successor to Chancellor Gilchrist. The Board of Trustees will forward a slate of finalists to President Ross for consideration. The new chancellor, upon nomination by the President, must be elected by the UNC Board of Governors.
###
NOTE TO EDITORS: An electronic copy of this release and a photo of Judge Becton can be found on the University of North Carolina website at www.northcarolina.edu. Photo URL: http://www.northcarolina.edu/news/images/becton.jpg
Joni B. Worthington
Vice President for Communications
The University of North Carolina
P.O. Box 2688
910 Raleigh Road
Chapel Hill, NC 27515
Phone: (919) 962-4629
FAX: (919) 962-5463
Email: worthj@northcarolina.edu
---