Bearer to the Mace found formula to success
Posted On December 13, 2011
---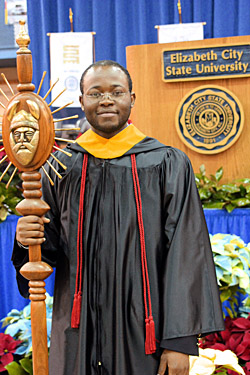 Kesha Williams
December 13, 2011
You might say that Alexander C. Nwala found the student formula to success. This native of Port Harcourt, Nigeria, arrived at Elizabeth City State University four years ago as a freshman. It was his first ride aboard an airplane -15 hours — his first visit to the United States and his first time stepping foot on the campus. After the first semester, he earned a 4.0 grade point average. He maintained that perfect GPA for four years and graduated as the Bearer of the Mace for ECSU's 153rd Commencement held Dec. 10 in the R.L. Vaughan Center.
The honor of bearing the Mace is reserved for the non-transferring senior with the highest grade point average. While that particular accomplishment wasn't his intention, succeeding clearly was.
&quotI knew my Dad had spent so much money [travel expenses] for me to come here, so I knew I was expected to do well. When I saw that I got all As after the first semester, I said, 'Wow, maybe I can get all As in the next semester.' Over time, I discovered how to study, how to be successful in my classes and basically applied the same formula all those years.&quot
Nwala was a computer science major with a minor in aviation science. His formula for success included countless hours of study in the library, carefully and thoroughly completing assignments. He is an artist and enjoys playing the violin on occasion. He recalls attending one Lyceum Series performance featuring acrobats, but because soccer is his favorite sport, he skipped basketball and football games. Studying was simply his priority. Eventually, he began tutoring other students in math and lower-level computer science courses. He credits the faculty with offering him and his fellow students with great instruction.
&quotI like the relationship between faculty and students here. There is great benefit attending a university where they are always available. I knew my professors had time any time I had problems. I went to them and they were patient to help me,&quot Nwala said.
&quotSuccess, you see, is not an accident. Success is something you plan,&quot he continued. &quotWhen you develop a plan, you must be willing and able to carry out what that goal demands. It is unrealistic to set a goal you are not willing to work for. I won't say I have a special gene, I just spend on my classes.&quot
In addition to completing challenging courses, he completed three, summer internships with the North Carolina Department of Transportation thanks to a special partnership within the ECSU Department of Technology. He developed a mathematical formula to generate North Carolina license plate numbers. Nwala says he was pleased to develop an android phone application that could be used to generate the plate numbers. In another instance, one of his abstracts was accepted for presentation at the 5th Annual University Network Summit hosted in March 2011 by the U.S. Department of Homeland Security in Washington. Nwala presented research about a formula he developed to list possible evacuation routes in emergency situations.
It has been quite an experience for a student who never had visited another college campus before selecting ECSU. Nwala said international students hear stories about large American universities, with their huge campuses, large student bodies and extraordinary facilities. ECSU, while smaller, has prepared him well for the future, he said.
&quotIt is not always true that they [big universities] will make you achieve what you want to achieve. The most valuable things are in a small school,&quot he said. &quotThis school has given me everything I need to go anywhere and advance myself. I still have a sweat shirt from my new student orientation that says, 'Mission Possible.' It is still my size,&quot he said, grinning.
Nwala grew up the youngest of six in the coastal capital of Rivers State in southern Nigeria. His older siblings earned degrees in French, law, engineering and medicine from universities in Nigeria. He credits his sister with teaching him how to understand and conquer math. For a reason he does not know, his mother decided he should have the opportunity to study abroad. His mother, however, died before his freshman year in college, but his family remained supportive and true to her wishes. A cousin, Dr. Kingsley Nwala, chairman of the Department of Business Administration in ECSU's School of Business and Economics, suggested he consider earning his undergraduate degree at ECSU.
Adjusting to the diverse American culture wasn't difficult for Nwala, but the cold weather presented a different challenge. He enjoys the quick and easy access to educational resources and technology. However, there is an empty space in his heart. Due to the extreme cost of travel, Nwala has not returned home since he arrived in 2008.
&quotI miss my family most — nephews and nieces I have never seen,&quot he said. &quotInternet allows you to talk to them, even see them, but you cannot hold a new niece or nephew over the Internet. The food here is good, but I miss my local delicacies. Overall, it has been a good experience.&quot
He also is overwhelmed by the award of being ECSU's Bearer of the Mace. &quotI am very honored, thankful, humbled. I thank God. I'm so grateful to all the people who made it possible. My success wasn't achieved by my hands alone. My family, teachers and instructors and my friends&quot had a part in it, he said.
Nwala plans to enroll in graduate school and eventually earn a Ph.D. in computer science. He holds higher education in high regard, despite the gloomy economic forecasts.
&quotA college education is more than a way to gain financial stability for the future. It is about transforming your mind,&quot he said. &quotCollege gives you opportunity to make the most of your skills and talents. Young people should know education can push you beyond what you would ordinarily achieve.&quot
---