Barnes & Noble College to Manage University Bookstore
---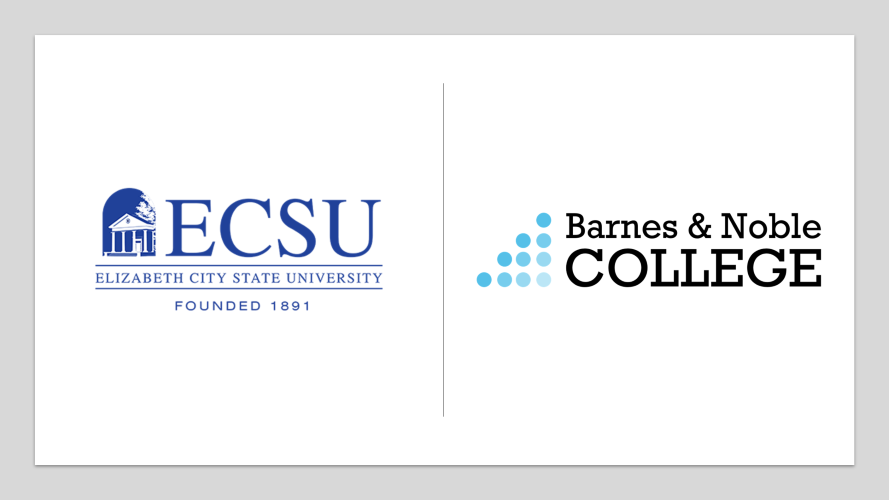 Elizabeth City State University (ECSU) announces Barnes & Noble College (BNC) will manage its university bookstore starting June 22, 2022.  BNC will manage course materials, retail merchandise, and online bookstore services for the university and school community.  The company currently provides these services for nearly 800 other colleges and 6+ million students across the U.S.
"This partnership will deliver the industry's largest inventory of affordable course materials in both physical and digital formats to our students and faculty, as well as on-campus convenience," says ECSU Vice Chancellor for Business and Finance Lisa McClinton.  "BNC offers a price-match program and options for ordering and receiving materials such as in-store pickup, curbside pickup, or delivery."
BNC will support academic success at ECSU through its course material delivery program called BNC First Day® Complete, which bundles course materials into the cost of tuition.  This saves students 35-50% on the costs of  course materials while ensuring they have all the resources needed before the first day of class.
Once students select their preferred delivery method, the bookstore will prepare materials for each student and notify them when materials have shipped or are available for in-store pickup.  Digital materials will be delivered directly to students.  First Day Complete will allow faculty to easily research course material selections and submit affordable options, regardless of publisher or format, further driving student success.
"We are very excited to partner with Elizabeth City State University as its new bookstore operator," said Jeff Miller, Vice President of Strategic Partnerships for Barnes & Noble College. "We support ECSU's mission of providing the highest quality education, and look forward to offering a wide range of academic solutions and a seamless retail experience that will help to drive success for students in the classroom and beyond."
ECSU will offer an expanded assortment of Viking-branded apparel, gifts, school supplies and more.   Because of its strategic alliance with Fanatics and Lids, BNC will deliver an unparalleled best-in-class assortment of apparel and an exceptional retail experience to the ECSU community.  Merchandise will be available both in store and online through the website or mobile app, delivered with a dynamic and personalized experience.
About Barnes & Noble College
Barnes & Noble College is a leading operator of college bookstores in the United States. Barnes & Noble College currently operates more than 770 campus bookstores and the school-branded e-commerce sites for each store, serving more than 6 million college students and faculty nationwide. General information on Barnes & Noble College can be obtained by visiting the Company's website at www.bncollege.com.
---