Barnes leaves ROTC program on course for a bright future
---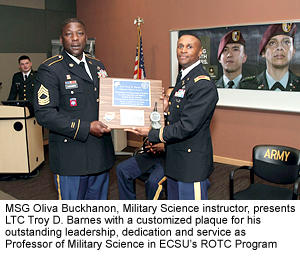 Kesha Williams
May 31, 2011
Lt. Col. Troy D. Barnes has completed a three-year assignment as the commanding officer of the Reserve Officer Training Corps (ROTC) program at Elizabeth City State University.
In a closing speech made recently during the Spring 2011 Commissioning Ceremony for seven cadets, Barnes assured the audience that the experience had been positive for both him and for the program. Barnes, a graduate of the United States Military Academy at West Point, says ECSU's ROTC program is on course for a bright future.
The program faced numerous tough challenges, however, when Barnes took over in 2008.
&quotWhen I became the new professor of military science during the summer of 2008, the program was understaffed. And there were rumors of the program being closed due to lack of participation and lack of overall production,&quot Barnes said. &quotECSU had not achieved its commissioning mission in over seven years. It had only made its commission mission once in the school's history. So I had to set some important goals,&quot he noted.
At the time, only 35 cadets were enrolled in ROTC. Of these, only seven were contracted to become Army officers. Barnes quickly went to work changing the climate of the program and the perception of ROTC among students, faculty and the university administration.
For three years, he highlighted ROTC's focus on academic excellence, moral and physical standards, and opportunities for cadets. Barnes became an iconic figure on campus both in and out of the classroom. In addition to his duties as the ROTC commanding officer, he also taught math.
Through Barnes' efforts, the ROTC program quickly grew, reaching an enrollment of more than 80 cadets, with 30 being contracted. The program began winning awards, placing in regional and national competitions and, most importantly, achieving its commissioning mission. The Army requires each ROTC program to commission a certain number of officers each year based on the size and demographics of the university. If the program obtains the required number, it is called &quotmaking mission.&quot
&quotFor two consecutive years, the ECSU ROTC program has achieved its commissioning mission and is postured to achieve its commissioning mission for many years to come,&quot Barnes said. &quotThe department has grown in every category, and that includes female enrollment and commissioning. During the next school year, we will have the first female battalion leader. She also is performing very well in her classes.&quot
The opportunity for students to gain leadership experience and to test their skills in strenuous, Army-approved exercises are reasons Barnes says the ROTC experience is invaluable. Through the ROTC, students can earn a bachelor's degree and prepare for life in the Army. The training provides cadets a clear advantage over men and women who enter the Army at the local recruiting office. ROTC also offers cadets an experience that's different from that of the traditional college student.
&quotHaving ROTC on a college campus provides employment opportunities, exceptional training and life experiences that are unmatched by any other college course or program of study,&quot Barnes said.
With the rigorous training and tests that cadets complete, Barnes also furnishes advice to each officer who departs the ROTC program and enters the Army: &quotAlways do your best, always look your best, and always be your best.&quot
Barnes leaves the program in the hands of a new professor of military science, Maj. Michael L. Peeler who has 22 years of experience in the Army, with 16 years serving as an officer. He received his commission from the University of Tennessee at Martin and a M.S. degree from Kansas State University. He is a graduate of the Artillery Officer Basic Course, MLRS Cadre Course, Artillery Officer Advanced Course, Combined Arms Services Staff School, Air Assault School and Ranger School.
Peeler's awards and decorations include the Bronze Star Medal, Meritorious Service medal, Army Commendation Medal (2 oak leaf clusters), Joint Service Achievement Medal, National Defense Service Medal, Korean Defense Service Medal, Global War on Terrorism service and Expeditionary Medals.
---