Aviation Students Win Top Honors in National Competition
Posted On November 10, 2016
---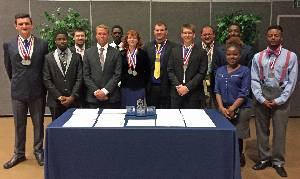 Elizabeth City State University's Aviation Program students have the right stuff and they proved that fact last month at the National Intercollegiate Flying Association (NIFA) Region-X SAFECON competition. The students, led by aviation professor and team coach Orestes Gooden, took third place in the flight competition and fourth place overall.
The competition happened in Franklin, Virginia and included a competitive group of schools including the United States Naval Academy. Trophies, certificates and presentations were awarded to the event's top performers during a banquet.
Gooden was also recognized for his flying skills when he competed against other coaches.
According to Gooden, the ECSU Aviation Team members are excited to have participated. He says they are looking forward to further training and next year's competition.
"We will train and fly to win, and next year the top trophy will belong to ECSU," said team member and aviation student Kemarie Jeffers.
The NIFA was founded after World War I introduced powered flight to warfare. Young aviators returning from the war continued their college studies but were looking to expand their flight training and experience.
The first competition, according to the NIFA website, took place on May 7, 1920. Nine schools participated and Yale University took first place.
As the only four-year collegiate aviation education program in North Carolina, the mission of the ECSU Aviation Science Program is to provide quality aviation education to a diverse group of students, especially those who have been underrepresented in the aviation and aerospace industries.
The program offers a Bachelor of Science degree in Aviation Science with minors in the areas of Aviation Management, Electronics, Aviation Computer Science, Avionics, Public Administration, Flight Education, and Space Science. The aviation degree program is designed to prepare students for the rigorous employment demands of the highly competitive aviation and aerospace industries.
---