Aviation Science Senior Nomar Proctor's Passion Takes Flight in the Coast Guard's CSPI Program
Posted On August 31, 2021
---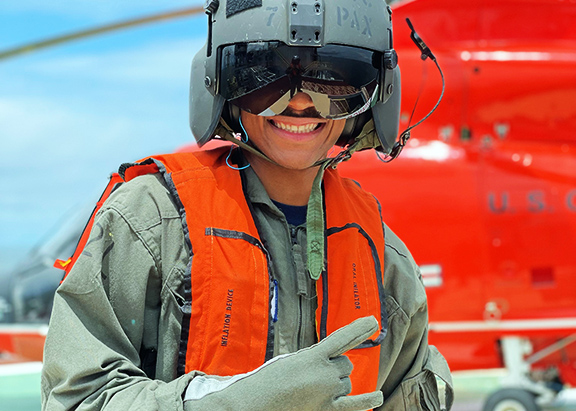 Aviation Science student Nomar Proctor poses in front of a Coast Guard Dolphin helicopter at Air Base New Orleans this summer. Mr. Proctor is an Officer Trainee in the CSPI program and flew his first helicopter during a patrol mission over the Mississippi River. Taking the controls of the helicopter, he said, reignited his passion for flying.
Nomar Proctor is flying. 
When Mr. Proctor, a senior, came to Elizabeth City State University, he knew he wanted to be an aviator and was looking at the U.S. Coast Guard as a part of his career path. He was accepted into the Coast Guard's College Student Pre-Commissioning Initiative (CSPI) scholarship program and this past summer, as an Officer Trainee, he found himself behind the controls of a Dolphin helicopter, flying patrols over the Mississippi River out of Air Base New Orleans. 
"They asked me if I wanted to take the controls and I said, yes," Mr. Proctor, the 2020-2021 Mr. ECSU, said. "It was awesome. A great experience. It reinforced my passion for aviation."
The CSPI program has been a game-changer for Mr. Proctor, and other ECSU students.
Students are accepted into the program before their junior year and train as enlisted members of the Coast Guard at the boot camp in Cape May, New Jersey. After they complete training, they are classified as an E3, Officer Trainee, while attending the university. Their number one job as CSPI students is to complete their university education, which is paid for by the Coast Guard, before going on to Officer's Candidate School. 
A native of Prince George County, Maryland, Mr. Proctor came to ECSU to join the aviation science program. During his freshman year, he began training as a pilot but would eventually switch his focus to the university's Unmanned Aerial Systems (drones) program.
As a member of CSPI, Mr. Proctor will graduate from ECSU in May and go onto Officer's Candidate School before pursuing a specialty in the Coast Guard.
He said although aviation has always been his number one passion, he had decided it wise to explore other areas of interest in the Coast Guard.
"I'm one to have a back-up plan," he said. "I looked into different jobs in the Coast Guard and my focus shifted. I wanted to be able to function in other areas."
But this past summer, that all changed when he found himself gripping the controls of the helicopter, hovering over the Mississippi River.
"Once I got into the helicopter, that's what I wanted to do," he said. 
Mr. Proctor spent two months in New Orleans training with other CSPI students. It was his second month that found him in the air.
He said the flight crews at Air Base New Orleans fly patrols over the region, keeping an eye out for any suspicious activity over one of the country's busiest ports. The folks at the air base knew he had previous flight experience thanks to ECSU's aviation program, so they handed him the controls.
It was 15 minutes that may well change the course of Mr. Proctor's career.
His next step is to apply for the Wilkes Flight Initiative program. Students accepted into the program – ECSU has had three in the past five years – will graduate from the university, complete their officer training, and then head straight to flight school in Pensacola, Florida.
He says, however, even if he did not make it into the program, he'll still pursue flight school while in the Coast Guard. Flying, after all, is a way of life, not just a job, and it is Nomar Proctor's passion.
"In the Coast Guard, we don't see it as a job. We see it as what we do," he said.
---