Aviation Program Student Pipeline to Commercial Pilot Career Gets Big Boost with Airline Transport Pilot Authorization Program
---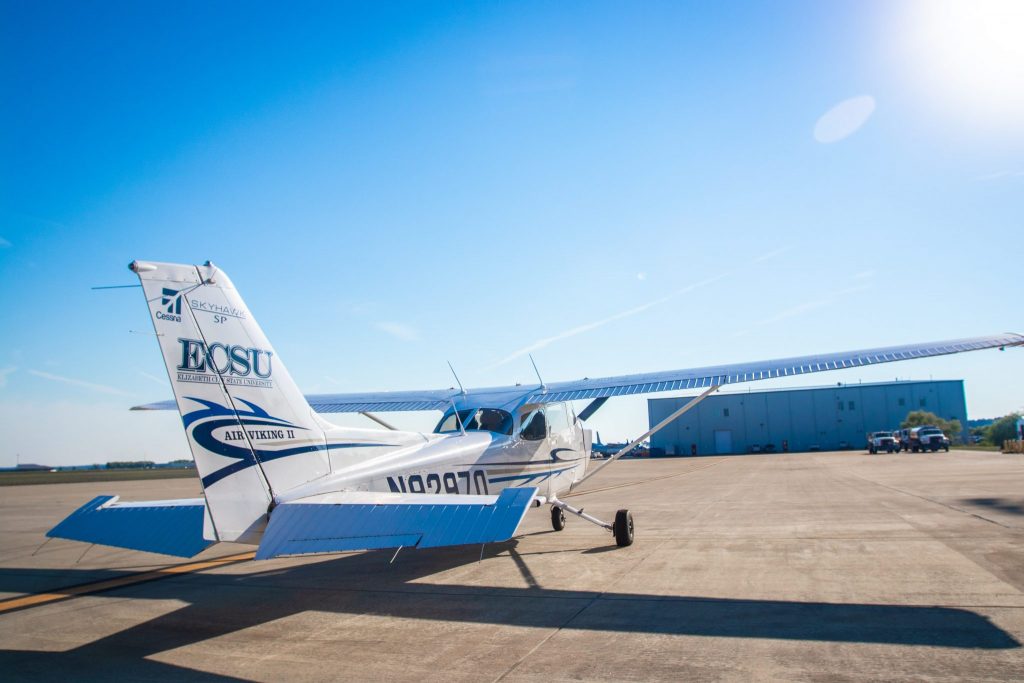 Elizabeth City State University's Aviation Program has created a shorter path to becoming a commercial airline pilot. ECSU has been authorized by the Federal Aviation Administration for its Airline Pilot Transport Certificate (ATP) with Reduced Aeronautical Experience program.
The program, known as Reduced-ATP (R-ATP), allows ECSU's aviation graduates the opportunity to receive their Airline Transport Certificate with 1,000 flight hours instead of 1,500 hours, according to Dr. Kuldeep Rawat, dean of the School of Science, Aviation, Health and Technology.
"The big advantage is they can get hired at the airlines sooner," he said.
Mike Pinner, ECSU's chief flight instructor, said students planning to pursue the Airline Transport Pilot license will receive a letter from him certifying their eligibility for reduced ATP.
"They qualify to become an airline pilot and start as a first officer," said Mr. Pinner. "The R-ATP is required to fly for any airlines or be a charter captain."
The authorization is another in a series of benefits to ECSU aviation students, advancing their efforts to become airline pilots. The R-ATP is, said Dr. Rawat, only available to collegiate aviation degree programs that have an FAA PART 141 flight training program and a minimum of 60 credit hours of FAA approved coursework at a baccalaureate level or 30 credit hours at associate level. ECSU was approved to be a PART 141 program in 2019 and places the program in "a very competitive field with other similar degree programs."
According to the FAA, PART 141 schools offer a more structured training environment, are better for full-time-career-oriented students and will allow students a shorter flight-training period.
Dr. Rawat says the 141 designation reduces the flight training degree requirement from 250 hours to 190 hours. This will save students 60 hours of flight time and reduce their flight training cost significantly.
This new designation also works to establish a quicker commercial airline path for aviation students.
Pilot-in-Pipeline program, such as the one ECSU recently signed with United Airlines, is designed to assist future pilots make the transition from flight student to commercial airline pilot. Through its AVIATE program, United provides the most direct route to a job offer with their airlines.
The 141 designation, combined with the R-ATP makes ECSU a highly competitive collegiate aviation-training program, according to Dr. Rawat. That combined with the reduced flight training cost, and the low tuition made possible by the N.C. Promise Tuition Program – $500 per semester for tuition cost – future aviators can reach greater heights at ECSU.
---