At 17, ECSU Sophomore Jaelah Adkins is Focused on Success
Posted On October 28, 2020
---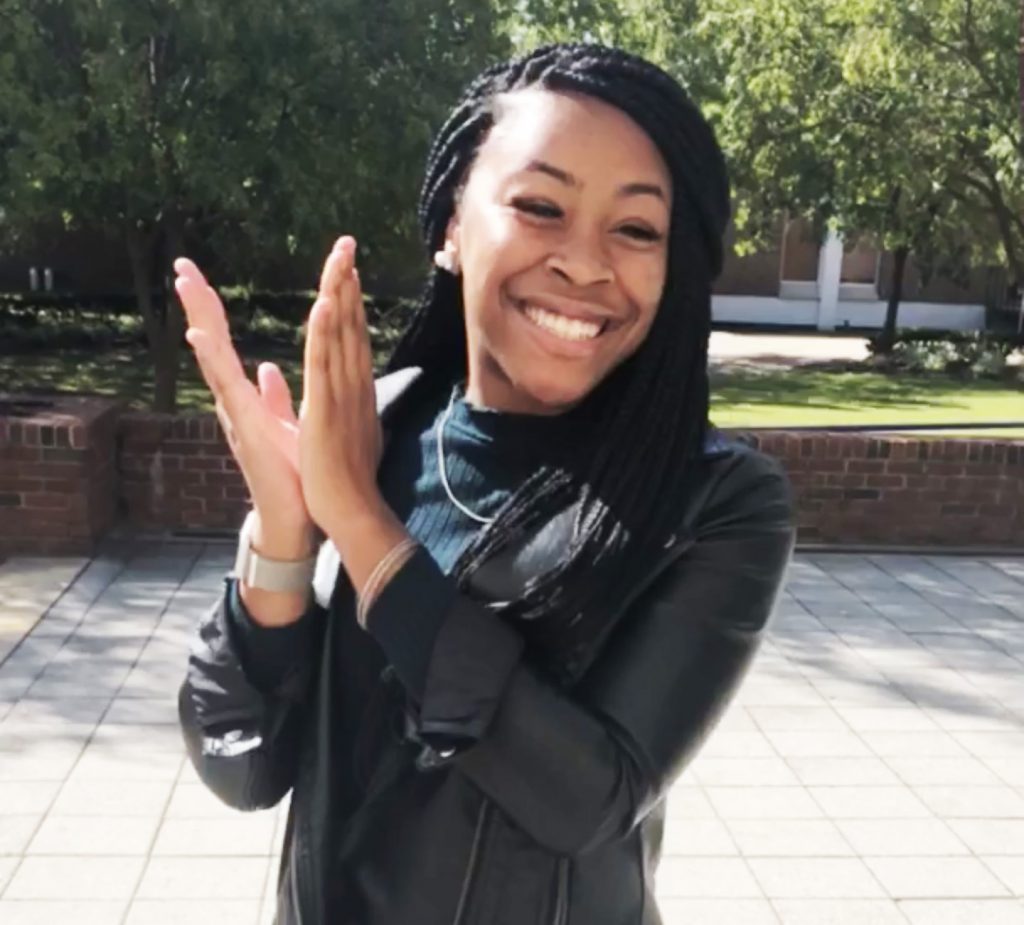 Jaelah Adkins, 17, strikes a pose with the Viking "V" at freshman orientation early in 2020. She entered ECSU as a second semester freshman in January 2020 while still a high school student in Elizabeth City. She was 16 at the time.
Listening to Elizabeth City State University sophomore Jaelah Adkins talk about her goals, her determination, and her action plan for success, it might be surprising that not only is she 17, but this time last year she was still in high school. 
In January 2020, the Elizabeth City native began taking classes at ECSU as a second semester freshman, declaring her major in kinesiology with a concentration in exercise science.
Ms. Adkins was in the first class of the Elizabeth City-Pasquotank County Early College Program at College of the Albemarle. That was middle school and even then, she knew that she would graduate high school ahead of her peers and go on to study at a university.
"I started getting college credits ever since my first class there," said Ms. Adkins. "I would look at the classes I was taking to make sure I was getting the credits I needed, and I would take classes in the summer."
Ms. Adkins says that it was because of her father's notoriety that she was determined to graduate early and head off to college. Her father, Gabriel Adkins, is a business owner and Elizabeth City council member, and well known in her community. 
"I'm proud of that but I wanted to show people that I could have something going on as well," she said. "I wanted to shine on my own."
As Ms. Adkins navigated her path toward her goal of early graduation, she had accumulated plenty of credits in Early College, but wanted to dual enroll at ECSU as a high school student. That's when she transferred to Northeastern High School.
As a dual enrollment student at Northeastern, with all of her high school credits completed, she could begin taking classes at the university. On top of that, because of her hard work in the Early College Program and classes at COA, Ms. Adkins had also accumulated enough freshman credits to enter ECSU as a second semester freshman at 16-years old.
"I was very nervous," she said. "Everything moved so fast because I wasn't expecting to be here so early."
During her first semester at ECSU, Ms. Adkins took 16 credit hours. Her sister is also an ECSU student so with her help, Ms. Adkins was able to navigate the campus and become acclimated to university life.
"It wasn't as bad as I thought," she said of her workload and her first semester on campus.
And then the pandemic hit, and the university campus switched to virtual learning.
"Of course, it was disappointing because at that point I was getting adjusted to the campus," she said.
Although Ms. Adkins says she prefers in-person interaction, she adjusted to virtual learning. She didn't like it, she said, but she also knew she had to do it.
This semester, Vikings returned to campus and so did Ms. Adkins. She could have easily continued living at home in Elizabeth City, but she says she wanted to live on campus and be a part of the Viking community 24/7 and be a cheerleader – although there are currently no sports activities due to COVID-19 restrictions, she is still a member of the cheerleading squad.
"I did that (move on campus) because I had this vision that after the next semester, I wanted to do school strictly online," she said.
That vision is a part of the next phase of her plans. Ms. Adkins says her degree in kinesiology fits into her plan to be a physical therapist working with children and she has an opportunity to work at the Children's Hospital of the King's Daughters (CHKD) in Norfolk, Virginia while finishing her degree online.
Her grandmother works at CHKD in the registration office. When Ms. Adkins turns 18, she will be eligible to work there.
"That is a way I can start looking at the physical therapy department at the hospital," she said. "Once I get a degree and make relationships there, I can work my way into that department."
So how does someone so young have such drive, focus and determination?
"Stay focused," she said. "Once you have the mindset to do something, go for it."
And always, she says, have someone you can talk with about your plans.
"My mom was the one that helped me put that vision into action," she said. "My mom is the one that inspired me to follow my dream and do what I have to do to be successful."
And so far, Ms. Adkins is finding success with each step of her plan. 
---