Assoc. Vice Chancellor Kevin J. Wade Selected for National Higher Education Leadership Program
Posted On December 6, 2022
---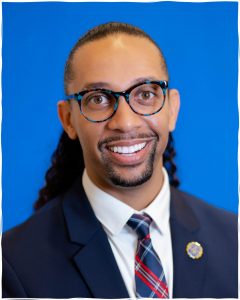 The Higher Education Leadership Foundation (H.E.L.F.) announced its selection of Kevin J. Wade, associate vice chancellor for Student Affairs and deputy chief Student Affairs officer at Elizabeth City State University (ECSU), as part of its 13th cohort of fellows. HELF was established in March 2015 to provide bold, engaging and innovative learning and mentoring opportunities for current and aspiring minority leaders.
As one of 27 fellows nationwide, Wade will attend and participate in HELF's Leadership Institute and other activities throughout the year aimed at preparing leaders for senior roles in academia, specifically Historically Black Colleges and Universities (HBCUs). The first activity is the four-day Leadership Institute, held at Wiley College in Marshall, Texas, Dec. 8-11, 2022, where fellows and program participants are immersed in discussions and interactions with college and university presidents and chancellors, administrators, scholars, as well as industry and corporate leaders. Attendees also participate in case studies, scenario planning and other activities centered around personal growth and career development at HBCUs.
"I am honored to be selected as a HELF Fellow, which provides me with the unique opportunity to engage with and learn from leaders at the forefront of HBCUs and those who invest and support them," said Wade. "Alongside my peers, the HELF Fellows build a continuous network of scholars who are passionate about education and preparing to serve at the highest level at our nation's most treasured institutions."
Wade began serving at ECSU in 2018; he oversees campus centers in the Division of Student Affairs, including Student Engagement​, Student Health,​ and Recreation and Wellness​. His career includes numerous leadership positions in higher education. Prior to joining ECSU, Wade was the dean of Student Services at Laney College in Oakland, Calif., and also worked at a university and community colleges in Virginia, Maryland and California. After earning a Bachelor of Arts in Political Science from ECSU, he served at his alma mater as the coordinator for Leadership Development and Commuter Student Engagement. Wade is currently completing his studies toward an Ed.D. in higher education leadership from Morgan State University.
---