Aspiring Orthodontist Scores Big on the Court and in the Classroom
Posted On December 8, 2022
---
Alexus Danielle Elliott
Biology Major
Hometown: Dudley, North Carolina 
Athletics and academics have always been strong talents of Alexus Danielle Elliott. When she graduated from Southern Wayne High School in Dudley, North Carolina, in May 2019, she did so as class valedictorian, having earned two state medals for track. She ranked third and fourth place in North Carolina for indoor and outdoor shot put, all while also playing basketball and volleyball.  
"Coming out of high school, I wanted to play volleyball, though I had a better career in track," says Elliott. Her track coach was an alumnus of Elizabeth City State University (ECSU).  
"When I first visited ECSU and walked campus, it felt like home and everyone was so welcoming. I liked that it was very affordable, not too far from home and on the coast." 

The Balancing Act
Coming to ECSU on a volleyball scholarship, Elliott played on the Mighty Vikings as a middle blocker and was familiar with what it takes to flourish on multiple courts in life. "I've always been strong academically, but being a collegiate student-athlete—balancing academics and playing a sport—is extremely difficult. It takes discipline, hard work, excellent time management, and the help of amazing people around you," she notes.  
She participated in the Comprehensive Academic Scaffolding to Enhance Retention of Minority STEM Students, or CASER, Program before starting classes in August 2019. The four-week, on campus program for incoming freshmen minority students offers students courses in biology, chemistry, mathematics, scientific literacy and critical thinking.  
Elliott selected biology as her major with plans to become an orthodontist for a reason that's personal to her. Before and when she wore braces in high school, she went through a challenging time: she was the victim of bullying. 
"I was teased for being a tall, dark brown skinned, smart girl whose teeth weren't perfect." All of these were also some of her greatest strengths. She credits her orthodontist for changing her life. "I want the opportunity to change someone else's life and give them a smile. The way my teeth looked impacted my life greatly." 
An ECSU Golden LEAF Scholar, Elliott has been on the Chancellor's List since her freshman year. She participated in the National Science Foundation in Virginia and North Carolina Louis Stokes Alliance for Minority Participation program, and served as an undergraduate summer researcher, studying oral and gastrointestinal microbiomes. Her love of learning has transferred to other students as a Science, Technology, Engineering and Mathematics, or STEM, mentor through the VIKINGS Enhancing STEM through Innovation and Collaboration initiative and CASER program, a program Elliott is especially passionate about because it helped her when she began her first year at ECSU. Additionally, Elliott spent the summer of 2022 developing and executing a research project on the identification of soil microbes exhibiting antimicrobial properties. 
An active student, she is also a member of Zeta Phi Beta Sorority, Inc., ECSU's chapter of the National Society of Leadership and Success, and served as president of the Student-Athlete Advisory Committee. 
Sporting Excellence
Elliott's ability to successfully navigate the challenge of coursework and athletics are attributed to her supportive "village," a group that has included her family, friends, professors, peers and teammates. "Volleyball is an outlet, it's a safe haven. When I play, I leave everything on the court." 
One of her professors, Margaret Young, Ph.D., associate professor of Biology, notes, "Ms. Elliott has done solid work in all three of my courses. She is very good at ensuring that the work is done and comes to my office if needing additional resources. She's matured as an individual and a team builder.  An excellent communicator, Ms. Elliott has great critical thinking skills, such as the ability to connect the dots in the topics that are covered." 
During the regular volleyball season in October 2021, Elliott was traveling to a game in Virginia when she received devastating news: an electrical fire destroyed her family's home – the home occupied by her mother, grandmother and two dogs. Thankfully, everyone escaped safely, but the house was left uninhabitable and countless memories were lost forever. Without telling her teammates or coach, she drew inner strength and played the game—afterwards, her coach said it was her strongest performance. Later that season, the team made it to the semifinals, but were not victorious. The defeat hit Elliott especially hard as she put her hopes into winning the championship just a month after she lost her home, but she still remained focused. 
Elliott was part of the 2022 CIAA Championship-winning team that secured sixteen conference wins, a 10-1 record at home, and an overall record of 26-9. In CIAA conference stats, Elliott is ranked eighth in blocks. Her skills on the court helped get her elected to the 2022 CIAA Volleyball Championship All-Tournament team in mid-November. The win was especially sweet because Elliott and her teammates defeated the same team that they lost to in the semifinals.  
"There were so many times when I had every excuse and disadvantage against me to fail—but I didn't." She credits her strong faith as helping her stay grounded. 
A first-generation college student, Elliott will cross the stage in December 2022 one semester early, earning a Bachelor of Science degree in Biology, with a Pre-dental concentration, while carrying the pride of her family as their first college graduate. Her 3.8 GPA makes achieving her dreams even sweeter.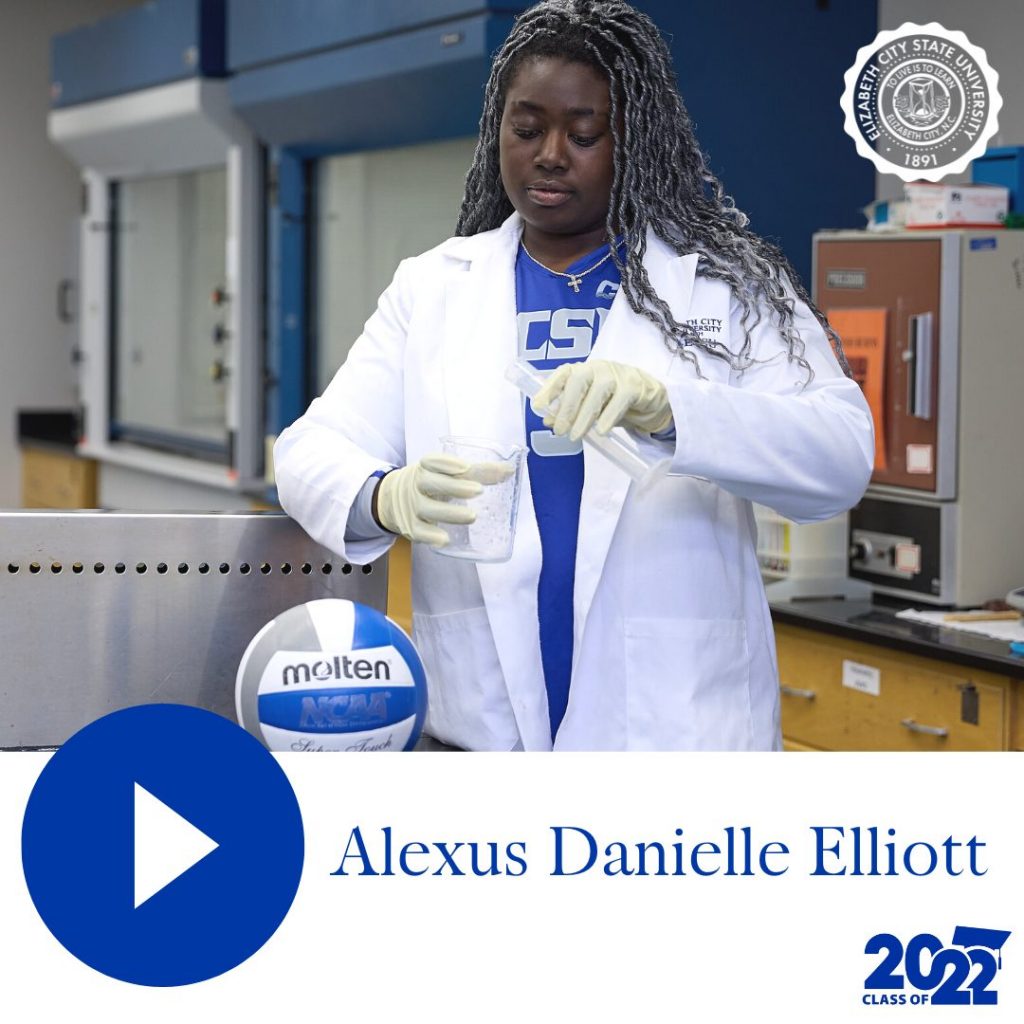 ---