Art majors display paintings drawings and more at ECSU
---
Kesha Williams
April 23 2012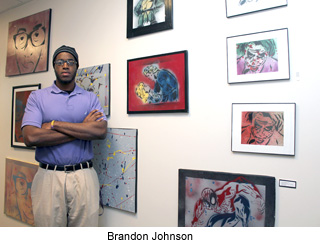 Eight seniors majoring in art recently held areception to display work made for their senior portfolio. The senior art exhibition was held on April 12 in the lobby of the Information Technology Center (ITC). Their work included paintings sculptures post cards and posters from graphic art street art by Johnson art with spray paint 80stensils cartoon characters super heroes. The list of featured artists appears below and the type of work they displayed:
 Joshua McFadden (photography)
Brandon Johnson (drawings)
Brittany Grant (digital media action heroes charcoal on newsprint stain glass)
Kiara Cross (brochures)
Amahd Thomas (paintings)
Gabriel Broady (pencil drawings acrylic paint graphite drawing watercolor)
Kendra Gregory (graphic design)
Gregory Odem – Mcallister (graphic design)
Professor Alexis Joyner chairperson of the Art Department said he was happy to see so many ECSU students attending the reception. The reception allowed the students to display techniques they've covered in several classes over years.
&quotThe senior show is the capstone for art and graphic design majors. It demonstrates their readiness to tackle graduate school or the world of employment as artists and designers&quot Joyner said.
Brandon Johnson shows his drawings during the senior art reception held at ECSU's Information Technology Center.
---