Area youths develop math and science skills at ECSU
---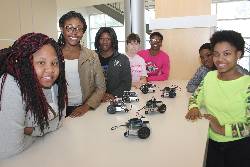 By Kesha Williams
Saturday morning is prime time for assembling mobile robots and designing roller coasters.
That's the conclusion area middle and high school students reached when they began working on select math and science projects on February 12. Over the course of the next three years, they can learn to program robots to perform specified tasks and learn to build rocket prototypes, solar vehicles, and hand-held gliders. The middle school students came from schools in Bertie, Hertford, Pasquotank, Camden and Gates counties to participate in the state Mathematics Science Education Network Program (MSEN). Coordinators of that program partnered with faculty and staff from ECSU's technology department who are conducting the Saturday math and sciences sessions. NASA's Minority University Research and Education Program (MUREP), a federally funded, grant-awarding program designed to help faculty at minority institutions assist youths with STEM research activities, is one sponsor for the Saturday sessions. Additional funding comes from the Golden LEAF Foundation, a state foundation that supports projects that provide educational opportunities and increase economic vitality.
Last Saturday, March 12, ECSU hosted 96 students in the Pharmacy Complex for a morning of assembling and testing robots. Teams of students worked four hours to determine which robots could function properly. All but two teams successfully reached that goal. Dr. Ellis Lawrence, a professor in ECSU's technology department, Kerry Krauss, a lab technician at ECSU, and Aron Bechiom, an aviation science major, assisted Dr. Kuldeep Rawat in conducting the session.
"The students have responded well to the challenges related to programming and assembling the robots. We are very grateful for the support from our sponsors that will help these students perform well here and in their school math and science courses," said Rawat, principal investigator and site director for NASA's Aerospace Academy. "For some students, math and science courses are very challenging. The exercises we complete here on Saturday, give them additional opportunities to excel and best of all to prepare for college courses."
---