Area Students Get First Look at Mobile STEM Lab
Posted On February 1, 2017
---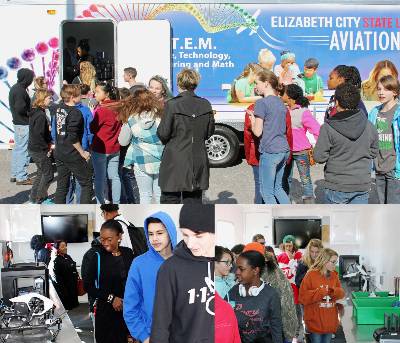 Students from the Northeast Academy of Aerospace and Advanced Technologies joined members of the Elizabeth City State University Aviation Science program as Chancellor Thomas Conway unveiled the ECSU NASA Mobile STEM Lab for the first time.
Measuring 40-feet long, the lab consists of at least 10 stations, each designed to offer students the opportunity to experience cutting edge technology firsthand. The stations cover aviation, technology, robotics, and more.
"This mobile lab is critically important to what we as a university intend to do," said Chancellor Conway during the unveiling ceremony. "Education should be fun and interactive and that is what we are going to do."
After NEAAT students had the opportunity to tour the mobile lab, it was driven first to nearby River Road Middle School, and then later to Elizabeth City Middle School. Students at both Elizabeth City-area middle schools were able to tour the lab and find out what is in store for them.
Since the mobile science lab was first announced through social media late last year, a number of regional school districts have called ECSU, hoping to schedule a visit from the lab, according to Chancellor Conway. The mobile lab offers regional schools the opportunity to present science to students who might not otherwise have resources for advance technology.
Schools are encouraged to contact the university's Aviation Science Program to schedule a time for a mobile lab visit.
"We are on the road," said Chancellor Conway. "ECSU is going to be there for you."
---