Area Law Enforcement, Emergency Services Join ECSU and Sinclair College for Day of Drone Simulation Training
---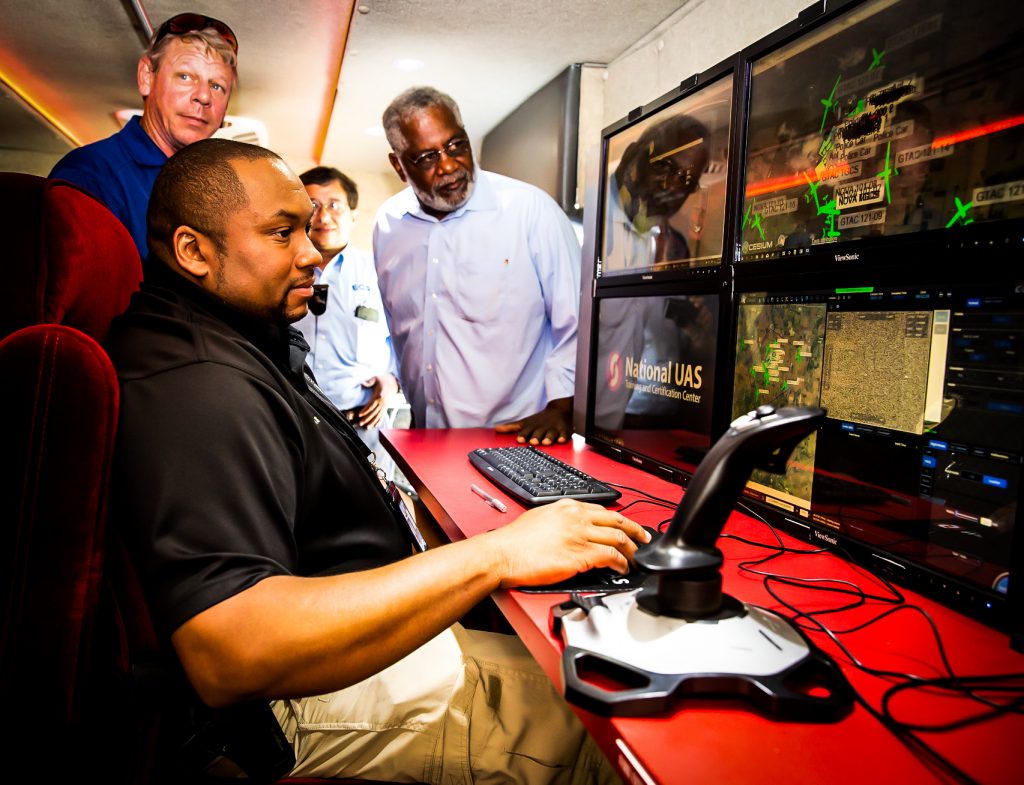 Elizabeth City Police Officer Lamont Butts sits inside a mobile command center on the ECSU campus Thursday, June 6. The command center is part of a joint drone exercise between ECSU and Sinclair College.
The scenario looks like this: A vehicle has just rammed through an airport fence and law enforcement must track the suspect using a drone, all the while working under the pressure of coordinating with and avoiding the air traffic above.
This scenario is just one part of a daylong joint exercise between Elizabeth City State University's aviation program, and Dayton, Ohio's Sinclair College, a national leader in Unmanned Aerial Systems, or drones.
This joint exercise is just one of a number of activities leading up to ECSU's fall 2019 launch of its drone technology degree program.
On Thursday, June 6, members of law enforcement and emergency services from Chowan and Pasquotank Counties joined the two institutes of higher education to work on real-time emergency scenarios using drone simulator software and a mobile command station brought to the ECSU campus by Sinclair.
One of the challenges of the exercise, aside from tracking and arresting the suspect, is to work within the matrix of the airport's air traffic control. In the simulation, there are a number of fixed-winged aircraft circling the airport, possibly preparing to land.
"If that happens in real time and there are airplanes coming into the airport, how do you handle the situation?" said Dr. Kuldeep Rawat, ECSU's aviation program director and dean of the area of science, technology and mathematics.
Rawat said Sinclair College is coordinating the exercise on its end in Dayton. With experts on both campuses running the simulator exercises and software, representatives from law enforcement and emergency services are getting a real-time taste of how these scenarios will play out once they are in the field operating drones.
Sinclair College sent its mobile command center to ECSU for use during the exercise. The command center is a refitted ambulance with three computer stations designed for drone operation. Dr. Rawat said ECSU will soon have its own mobile command unit.
Members of area law enforcement climbed into the Sinclair mobile unit and began working through the simulation after a briefing inside the drone lab at ECSU's Dixon Hall. The timing of Thursday's exercise was perfect for the Elizabeth City Police Department, who just launched its first drone unit.
Police officers Lamont Butts and Barbara Morgan will be Elizabeth City's drone operators. Butts and Morgan have gone through extensive training in drone operation, and will be continuing their training with ECSU, said Butts.
Butts said that currently the police department's drone unit is used for search and rescue and for infrastructure searches. He and Morgan are using Thursday's exercise to further their training and experience in the use of drones.
Emergency services professionals were also given their own scenario, working on an in-flight medical emergency. Firefighters were able to delve into the use of drones during a structure fire.
The partnership between ECSU and Sinclair comes at a time when drone use and subsequently drone technology education is on the rise. ECSU's fall launch  of its bachelor's degree in drone technology program addresses the demand of a growing job market.
The partnership and subsequent collaborations between ECSU and Sinclair will allow a broader understanding of the burgeoning technology's role in the aviation industry.
ECSU's flight simulator and air traffic control labs make the university's role important to drone research. As drone use throughout numerous industries grows, the question of air traffic management becomes increasingly significant.
Dr. Rawat says that with ECSU's aviation program collaborating with Sinclair's national drone certification and training center, there will also be a broader focus on workforce development.
The UAS, or drone, industry is expected to create 100,000 new jobs in the U.S. during the first 10 years of commercial integration and is growing at a rapid rate, projected to expand at approximately a 10 percent compound annual growth rate between 2018 and 2023, according to industry studies.
The level of economic activity is also significant with more than $2 million in UAS-related startup investment since 2012, $500 million of that occurring in 2017 alone, and an estimated $88.3 billion of civil UAS production worldwide over the next decade.
---