Area Businesses Partner with ECSU for Viking Homecoming 2018
Posted On October 15, 2018
---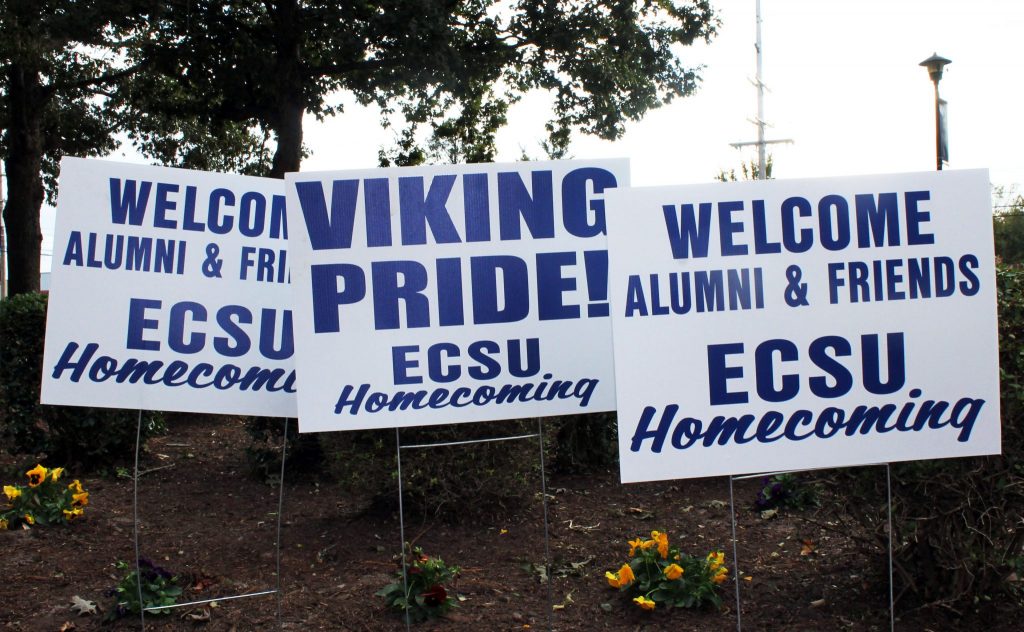 Look for these signs throughout the community during Homecoming Week. Businesses showing these signs are supporting Viking Pride!
As Elizabeth City State University prepares for thousands of alumni to arrive for the 71st annual Viking Homecoming, Oct. 21 through Oct. 28, area businesses are also preparing to help celebrate by participating in Paint the Town Blue Business Expo, Wednesday, Oct. 24.
According to Russ Haddad, ECSU's director of economic and community engagement, more than 20 businesses have signed on to not only participate in the business expo, but also show their support throughout the Elizabeth City community during homecoming week.
"We are happy to partner with these local businesses to welcome alumni during Homecoming," said Haddad. "We hope our alumni, staff and students patronize these businesses during Homecoming Week, and beyond."
Thousands of alumni, family, and friends are expected to fill Elizabeth City hotels, restaurants, and businesses. Haddad says these businesses are working with ECSU to offer discounts, display welcome signs and offer hospitality to returning Vikings and their families.
Homecoming partner businesses are helping to promote the university and the 71st annual Viking Homecoming by displaying signs and marketing material, displaying messages on marquees, displaying the ECSU Homecoming logo on their websites, and participating in the expo.
Businesses partnering with ECSU for Paint the Town Blue are:
Food Lion Feeds
Albemarle Family YMCA
Beach 104
Montero's Restaurant Bar & Catering
Fairfield Inn
Eclectic Jewelry
Quality Inn
Best Western
Museum of the Albemarle
Albemarle Area United Way
Food Bank of the Albemarle
The Daily Advance
Workforce Resources Inc.
Tutor All Inc.
Elizabeth City Chamber of Commerce
Champion Kutz
League of Women Voters
Voter Education
NC 10 % Campaign
SBTDC
Sentara Albemarle Medical Center
Cricket Wireless
Page After Page Book Store
Firehouse Subs
Comfort Inn
Haddad says there is no fee for participating in Paint the Town Blue, "only a willingness to help us paint the town with Viking Pride and make our alumni feel welcome while visiting their alma mater."
For more information about Homecoming and Paint the Town Blue, contact Russ Haddad at rghaddad@ecsu.edu.
---