Annual Jazz 101 Welcomes Saxophonist Ron Carter
---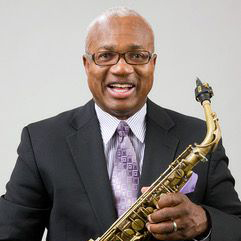 On April 16 and 17, the Elizabeth City State University Jazz Ensemble will celebrate Jazz Appreciation Month with  "Jazz 101"  clinics, rehearsals and live music.  Special guest performer will be clinician and saxophonist Ron Carter.
Over the past 11 years the annual ECSU Jazz Appreciation has hosted performances and workshops with musicians Jae Sinnett, Lesa Terry, Sean Jones, Marcus Anderson, The US Navy Commodores Jazz Band, Michael Dease and The Rhythm Project.  The annual K12 outreach Jazz concerts have been attended by hundreds of local and regional students.
The ensemble has received clinic funding from Yamaha Educational Division and sponsorships from CenturyLink.
Special guest Ron Carter is a professor emeritus from Northern Illinois University. He will present a day of "Jazz 101" workshops and clinics on the ECSU campus.  The day will end with a "Jazz 101" live interactive class from 7:30 p.m. to 9 p.m.
Jazz 101 is free and open to the public.
The ECSU Jazz Ensemble will end the week with an April 21, 2018 concert at the Unitarian Church in Kitty Hawk.
The ECSU Jazz Ensemble supports the Visual and Performing Arts mission with instruction in Jazz history, performance practices and pedagogy.  The ECSU Jazz Ensemble is under the direction of Associate Professor Douglas Jackson.
---