Alumnus donates garment for display in ECSU's Art Department
---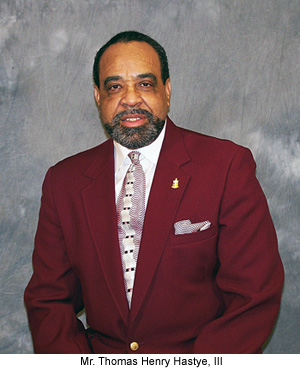 Bonnie Winston
July 05, 2011
There's nothing that Thomas Henry Hastye III wouldn't do for Elizabeth City State University. His alma mater, Hastye said, &quotis my heart.&quot
The 1979 graduate and former four-term president of the Greensboro Greater Triad Chapter of the ECSU National Alumni Association has given money to the school. Now, his latest gift is an elaborately embroidered, three-piece garment from Sierra Leone worn by men of the Fula tribe.
Made of a fabric like brocade, the golden-taupe pants, dashiki-like tunic and outer flowing robe with a light gold, embroidered geometric pattern clearly would be worn for special ceremony and, Hastye added, by someone of high status or highly respected within the tribal community.
The garment was a gift to Hastye in the mid-1990s by a friend and colleague who was from Sierra Leone. It is now on display at ECSU in a glass case in the Mickey L. Burnim Fine Arts Center.
---