Alumnus celebrates successful 37-year career
Posted On October 25, 2010
---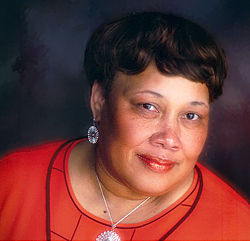 Bonnie V. Winston
October 25, 2010
Dr. Stephanie D. Bailey Johnson's career can be summed up in one word – excellence.
It's the credo she believes in and the standard she expects as an Elizabeth City State University alumna and an educator for 37 years.
Johnson is celebrating the reward that comes from successfully inspiring her pupils, teachers and staff to reach for – and achieve – excellence as well.
The elementary school in Chesapeake, Va., where Johnson serves as principal has received the Governor's Award for Educational Excellence for two years running. And in January 2010, her school, Camelot Elementary, was honored nationally for its exceptional student performance for two or more consecutive years.
&quotThere are so many entities creating this successful place. It's not just me,&quot said an humble Johnson, recounting the collective efforts of teachers, staff and community volunteers who have given a positive boost to youngsters in kindergarten through fifth grades at Camelot. &quotIt's truly the community coming together to help so that children can be successful.&quot
The national and state recognition for Camelot is sweeter still for Johnson because of the school's student population. At this school, located in an aging, working-class neighborhood, between 70 percent and 75 percent of the roughly 600 students receive free or reduced-price lunch, which gives Camelot the designation as a Title I, or disadvantaged, school.
&quotPeople don't expect those children to be successful,&quot Johnson said.
But since taking over as Camelot's principal in 2001, Johnson has made it plain that having low-income students doesn't equal low expectations. This energetic and innovative leader has transformed the school's culture and changed low expectations.
In less than a decade, Johnson has engendered an atmosphere of open communication, collaboration and innovation at Camelot, allowing teachers to try new ways to teach core subjects. Among them, she has given the green light to single-sex classes and creative techniques to teach hyperactive youngsters.
The result has been a new energy among teachers and high achievement for students that other schools in Chesapeake and across the nation are trying to emulate.
Student test scores at Camelot, which had been among the lowest in Chesapeake, are now among the top in the southeastern Virginia school district. Teachers are excited to teach and students are eager to learn. Parents and community groups regularly participate to further help student success.
&quotI believe children, if given the proper resources and the right instruction — and if I give teachers the right tools they need and the right strategies – shouldn't have any barriers to learning and achieving,&quot Johnson said.
The 58-year-old Johnson pins her success on trying to create at Camelot the same type of nurturing environment she found at ECSU when she entered as a young student from Portsmouth in 1970.
&quotI was inspired by the entire campus (at ECSU) because it was so nurturing,&quot said Johnson, an Upward Bound student at I.C. Norcom High School who came from a family of modest means.
Because of her academic talents, several colleges recruited her, including Wesleyan University in Connecticut and Elizabeth City State, which was known then as a teachers'college and only a 45-minute drive from her home.
&quotMy mother said if I attended (Wesleyan), they wouldn't see me until the four years were up because they couldn't afford to fly me back and forth,&quot Johnson said.
But there were other draws that made her choose ECSU.
The recruiter, a friend of her father, said if her parents &quottrusted him enough to send me to Elizabeth City, then he would make sure I matriculated and graduated,&quot she recalled.
Johnson also was given a work-study opportunity that helped cover her college bills.
To top it all off, the man who would become her husband – her high school sweetheart, Dr. Darnell Johnson — already was at ECSU starting his sophomore year. &quotBut that's not the reason I went down there,&quot she insisted with a laugh.
&ampnbspShe said she was overwhelmed by the caring atmosphere on the Elizabeth City campus.
&ampnbsp&quotEverybody was nurturing — from the classroom teachers, who had very high expectations, to the people working in the cafeteria and the dorm directors. It was such a family. It was just unbelievable.
&quotI know that because they treated me well, I was able to be successful. And I believe that same thing with my staff. I believe there is a way to create success by treating people well. It means everything when you let people know you are interested in them achieving their goals,&quot she said.
Johnson visits each classroom every morning, and she leaves notes of encouragement weekly in teachers' mailboxes. The former ECSU cheerleader also honors 10 teachers annually with a &quotCheerleaders for Children Award&quot for going &quotabove and beyond the call of duty.&quot
After graduating from ECSU in 1974, Johnson began her career as a teacher. She earned a master's degree from Old Dominion University in 1984 and her Ph.D. from George Washington University. She was elevated to principal 16 years ago. Her husband, a mathematics major who graduated in 1973, also went on to graduate school and has had a distinguished career in education. After 30 years with the Portsmouth school system, he retired as principal of Churchland Middle School in Portsmouth.
He later joined ECSU's faculty and served as chairman of the Mathematics and Computer Science Department. He also served as an assistant dean of education at Hampton University. Johnson, an interim research associate for education, now works on special projects within ECSU's mathematics department.
The Johnsons have a daughter and three grandchildren and remain active at ECSU. They can be spotted cheering for the Vikings at virtually every home game, and they have established a scholarship – &quotthe Johnson and Johnson Scholarship, we call it,&quot she laughed – to help a student majoring in elementary education and a student majoring in math to buy books.
Her sister, Dr. Linda Hayden, is director of ECSU's Center of Excellence in Remote Sensing Education and Research and a professor in the Mathematics and Computer Science Department.
Johnson announced plans to retire from the Chesapeake school system at the end of the 2010-11 school year. But it won't slow her down, or her support for her alma mater. She and her husband are active members of ECSU's Portsmouth Alumni Chapter. She is the chairperson for the chapter's&ampnbspfundraising committee.
&quotI love the place,&quot she said of ECSU. &quotWe support it in every way that we can.&quot
---