Alumnus Andrew Vinson returns to ECSU with Step Afrika
Posted On October 3, 2011
---
Bonnie Winston
October 03 2011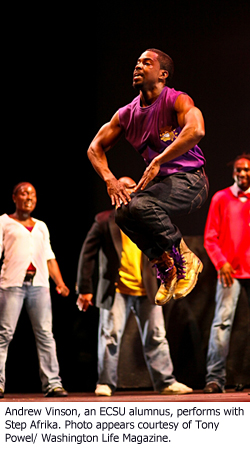 When the percussive dance group StepAfrika! hits the stage at Elizabeth City State University alumnus Andrew L. Vinson will be with them.
The 29-year-old Enfield N.C. native went from &quothop master&quot of his beloved Omega Psi Phi Fraternity Inc. on ECSU's campus to a global cultural ambassador when he joined the acclaimed dance group in 2009.
The group uses the high-energy tradition of &quotstepping&quot begun in the last century by black Greek-letter organizations on college campuses to engage with audiences around the world. In the last two years Vinson has traveled to 12 different countries on four continents performing the unique rhythms of StepAfrika! He has performed for everything from a festival audience of 15000 in Morocco to an intimate gathering at the ambassador's residence in Chile.
Having first learned to step at ECSU as a member of his fraternity's Lambda Gamma Chapter Vinson views StepAfrika!'s performance on Oct. 7 as part of the ECSU Lyceum Series at the Mickey L. Burnim Fine Arts Center as a true homecoming.
&quotI'm excited and nervous&quot said Vinson who earned two undergraduate degrees from ECSU. &quotI love my alma mater and I'm just proud to be able to go back to where it all started.&quot
When Vinson came to ECSU he had every intention of graduating in computer science and getting a &quotnormal&quot job. However the closer he got to graduation the more he realized he wanted a career &quotmore on the creative side&quot he said in an interview from his home in Washington where StepAfrika! is based.
Instead of switching majors he graduated in fall 2004 with a bachelor's degree in computer science. He managed a computer lab at a Vance County N.C. middle school and then re-enrolled at ECSU as a graphic design major.
Meanwhile he learned to step when he pledged Omega Psi Phi in spring 2004. And after returning to campus for his second degree he became both &quotbasileus&quot and &quothop master&quot in 2006 of his fraternity's chapter leading the organization both overall and in its showcase stepping routines. He also played the snare drums in the Viking Marching Band.
Graduating in 2007 with a second bachelor's degree in graphic design Vinson returned home to teach visual arts for two years at Southeast Halifax High School where he'd gone to school. Sharing the energy and enthusiasm of his students he also started a hop team at the high school and instructed the drumline.
It was pure serendipity the day he received a text message from a frat brother informing him that StepAfrika! was holding auditions in Washington where it's based. He'd been impressed by the group's moves and footwork when he first saw them perform at ECSU in 2003. He auditioned and ultimately was offered a slot in the nine-person group in August 2009. Vinson's joining was simply a harmonic convergence of his talent and interests. In addition to stepping he provides the resonant drumming for some of StepAfrika!'s routines.
&quotIt was a risk leaving the security of a teaching job to step full time&quot Vinson admits. &quotI was honestly torn because I loved working with the kids. They encouraged me to do it. They said 'We love you but you have a lot to offer.'&quot
After obtaining a passport Vinson was eager to perform. Through StepAfrika! he is teaching audiences of all ages about the origin and evolution of stepping and its similarity to other cultural forms of expression including South African gumboot dance that started with miners in that country.
The group's performances often include workshops in which they teach young people how to step. StepAfrika!'s members also learn traditional and contemporary dance moves from local groups in the host country. After a four-day workshop for students in Beirut Lebanon several thousand people showed up for the final performance which Vinson described as &quotsimply amazing.&quot
&quotDance really is a universal language&quot Vinson said. &quotI find that each culture takes pride in the particular dance of that country. And though we may speak different languages and live in different places at the end of the day the spirit of dance is common to all people and it brings us together as people&quot he said.
While he enjoys the rock star-like attention of being a part of StepAfrika! Vinson said the rehearsals and physical training are intense for about three weeks each year before the dance group heads out on the road for an August-through-June schedule of performances in the United States and abroad.
All the group's members are college graduates – a teaching point they use as they interact with young people. And this season all are members of fraternities and sororities. &quotWe all have various backgrounds with degrees in everything from journalism to biochemistry&quot Vinson said. &quotSome members go on to careers in their respective disciplines while others may continue in dance.&quot
Vinson said the greatest lesson that has come from his unusual journey is this: &quotDon't let your fears hold you back from opportunities.&quot
Vinson offers this advice to current ECSU students. &quotAlways have a plan&quot he said. &quotBut be open to diverse opportunities that come your way. Don't be afraid to take risks.&quot
To see a short video of StepAfrika's work go to www.stepafrika.org.
For ticket and other information about the group's performance at ECSU on Oct. 7 at 6 p.m. go to www.escu.edu/events/lyceum/
---