Alumni take their new posts during Homecoming 2011New Mr. Alumni crowned and four alumni inducted into Hall of Fame
Posted On October 18, 2011
---
Kesha Williams
October 18 2011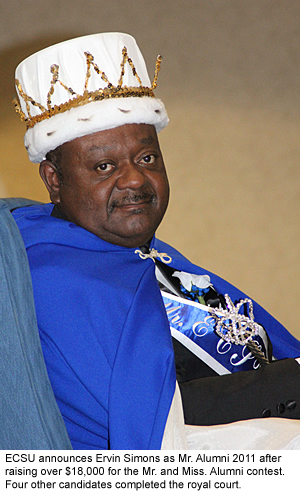 There is a new man wearing the royal blue cloak and the white royal hat reserved for the top individual fundraiser among ECSU Alumni. Ervin Simons from the class of 1971 and a member of the Bertie County Alumni Chapter is Mr. Alumni.
On October 13 Ms. Alumni 2010 Ms. Davene Rutledge draped Mr. Alumni (2011) before a cheering crowd of alumni staff and university supporters attending the Mr. and Ms. Alumni Coronation. Simons raised over $18000 which is the second highest amount raised for the Mr. and Ms. Alumni contest. Simon gleefully greeted the crowd and challenged future contestants to raise a minimum of $20000 each for the contest.
Simons graduated from ECSU with a bachelor's degree in music education with demonstrated talents in piano and trumpet. He also studied at Indianapolis University and Purdue University. In 1981 Simons retired as a mechanical engineer from RCA after 28 years of service. Upon returning to northeastern North Carolina he worked as the director of operations at Cambridge Behavioral Health Services PLLC in Greenville NC until 2010. Simons is the son of Mrs. Estella H. Simons '55 who is an active member of the NAA.
Currently Simons serves as membership chair of the Bertie Alumni Chapter and he is a life member of the ECSU National Alumni Association. Simons also serves as chairperson the ECSU NAA Board of Directors. He is a staunch supporter and member of the ECSU's 70s Decade One Million-Dollar Fundraising Campaign and a major contributor to the university's and NAA's fundraising initiatives.
In addition to being an avid golfer Simons enjoys dancing fishing hunting and traveling. Simons is a proud member of the Omega Psi Phi Fraternity Incorporated and serves as the Keeper of Records and Seal for this organization.
Other members of the royal court who also attended the coronation included:
First Runner up Shana Brown Pendergrass '93/'95 of the&ampnbsp J. T. Doles Alumni Chapter who also holds a&ampnbsp M.S. degree in Supervision and Leadership from East Carolina University. Pendergrass is an assistant principal in the Weldon City Schools (N.C.). She is a member of Alpha Kappa Alpha Sorority Incorporated and the proud mother of a 10-year-old daughter Nadia.
Second runner up Maryella Ward Leigh '67 of the Elizabeth City Area Alumni Chapter holds a &ampnbspM.S. degree in&ampnbsp Computer Technology from Grand Canyon University. She is a retired Educational Testing Administrator and teacher from the Currituck County Schools (NC). She is a member of Zeta Phi Beta Sorority Incorporated and a life member of the ECSU NAA.
Third runner up&ampnbsp Karla Crump Reaves '85 of the Peninsula Alumni Chapter holds a M.PA degree from Troy State University. She is the Director of Victim-Witness Services (Hampton Va.)&ampnbsp a jazz singer as well as a member of&ampnbsp Delta Sigma Theta Sorority Incorporated. She is a life member of the ECSU NAA.
Fourth runner up Tonya Renee Roundtree '92 of the Washington D.C. Metro Chapter holds a M.A. degree in Accounting from Bowie State University. She is a senior financial reporting accountant for Enterprise Community Investments and a member of Delta Sigma Theta Sorority Inc. Roundtree is also a life member of the ECSU NAA.
Fifth runner up Stephanie Allen Gordon '86 of the Virginia Beach Alumni Chapter. She is a volunteer office assistant for Food Bank SEV and president of the Norfolk Alumnae Chapter of Delta Sigma Theta Sorority Inc.
Funds raised for the Mr. and Ms. Alumni contest support scholarships overseen by the ECSU Foundation. The event was directed by Mary Cates. Gwendolyn Sanders was the mistress of ceremony for the coronation.
Four alumni were inducted into the ECSU Sports Hall of Fame:
Franklin D. Roosevelt Felton a retired security officer (30 years) for ECSU and former bus driver for athletic teams at ECSU
David Stukes a 1974 graduate of ECSU was a three-year starter at cornerback and safety. During his career he scored 18 interceptions. In 1974 he was named Co-Captain of the Vikings Football team. He was named to the All-CIAA first team. For a brief time he played with the World Football League with the New York Stars. Later he coached an adult softball team. He also coached an AAU basketball team for youths.
Paul McCray was an athlete at ECSU between 1970 and 1973.&ampnbsp McCray was a starting defensive end for three years and was a key contributor for the ECSU CIAA Football Championship team in 1971. Between 1970 and 1972 he was the #1 seed wrestler in the NAIA and CIAA Championship games. In 1972 he was crowned the CIAA heavyweight championship. He was also voted the most outstanding wrestler during those championships competitions. He was never pinned as a wrestler and achieved an outstanding record of 31 wins and 9 losses. He later served as a supervisor and director&ampnbsp for the YMCA of Long Island. He also worked as a senior representative and field trainer for a pharmaceutical company between 1978 and 1991.
Michael A. Mabry was a middle linebacker for ECSU. He was named to the all CIAA First Defensive Team in 1988 1989 and 1990. During those years he was a three-time recipient of the Thomas L. Caldwell trophy. Mabry earned additional awards-the golden Helmet Award for being the ECSU Player of the Year (1988-1989) Hardees Most Valuable Player Award (1991) Most Valuable Player of the 42nd Annual fish bowl classic against Norfolk State University. Mabry signed free agent contracts with the Tampa Bay Buccaneers (1991) and the Seattle Seahawks (1993).
Barbara Sutton director of Alumni Relations and Dr. Claudie Mackey a professor in the ECSU School of Education and Psychology contributed to this article.
---