Alumni Sponsored Winter Open House Attracts Hundreds
Posted On February 5, 2018
---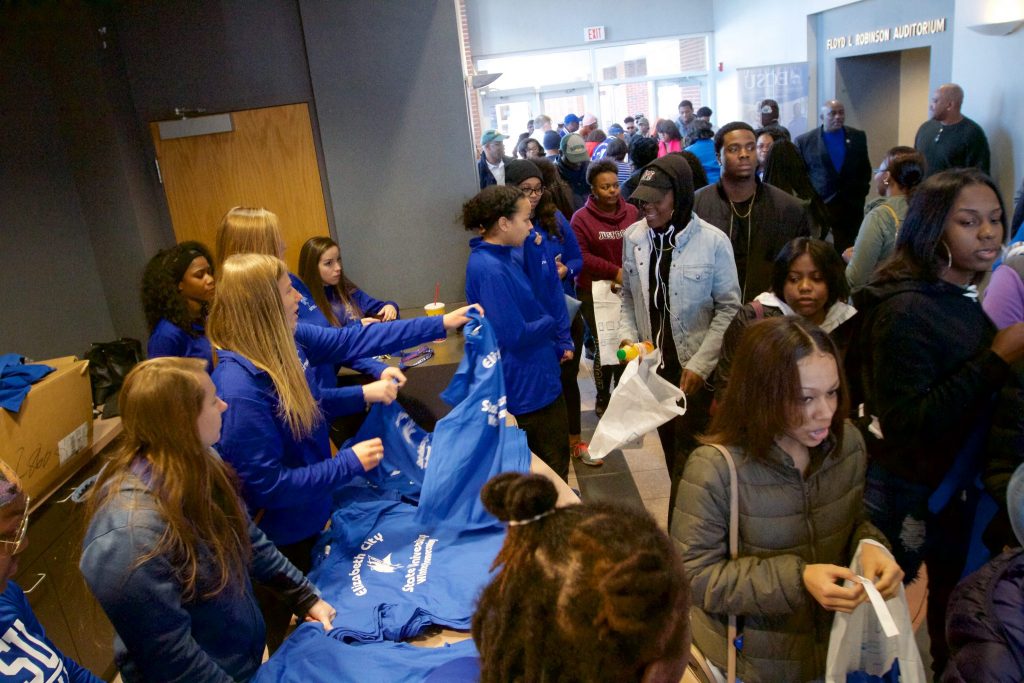 More than 500 high school students from across North Carolina, Virginia, and the Washington D.C./Maryland area attended the 2018 Winter Open House. The event is organized by the Elizabeth City State University National Alumni Association.
The lobby of the Mickey L. Burnim Fine Arts Center was packed with students, parents, and Elizabeth City State University alumni Saturday, Feb. 3, when Winter Open House welcomed them for a look at what many say will be their university home in the coming years.
The annual event, sponsored by the ECSU National Alumni Association, is designed to bring high school and community college transfer students, to the campus for a look at the future of their university education.
In the lobby, students were greeted not only by ECSU's enrollment and admissions team, but also a large number of alumni. Dr. Jeanette Evans, past president of the National Alumni Association, and Abdul Rasheed, current NAA president, were just two of the many former Vikings on hand to encourage high school students to join the Viking family.
Rasheed emphasized ECSU's mission to bring higher education to young people from all walks of life, many of whom would not otherwise have the opportunity to earn a bachelor's degree. And many of the students had the opportunity to speak with current Vikings, hearing about the many student success stories generated here at ECSU.
Inside the Floyd L. Robinson Fine Arts Auditorium, a sea of young people from across North Carolina, Virginia, and the Washington D.C./Maryland area packed the seats. More than 500 high school students attended the event as Assistant Director of Enrollment Darius Eure welcomed them, followed by the ECSU Sound of Class.
Chancellor Thomas Conway greeted the future Vikings and encouraged them to become a part of the campus community and experience what he reminded the crowd as a valued education, but now at reduced tuition.
These days, many families are looking at the rising cost of higher education. However, as students prepare to enroll in universities across the state, many are considering the new N.C. Promise Tuition Program.
The program, which launches in the fall of 2018, will allow in-state students to attend for $500 per semester, and out-of-state students for $2,500 per semester; student fees are not included in the reduced tuition rate.
And while students and their parents are looking at N.C. Promise as a viable option to concerns over student loan debts, many of Saturday's high school students said they are more interested in ECSU because it not only provides a quality education, but also a family-like environment. That is a theme which comes up over and over when current students and alumni discuss their university, the close-knit community that brings them together, and makes their university education more meaningful.
Other officials, including Interim Vice Chancellor of Student Affairs, Dr. Arthur Jackson, greeted the students, as did Student Government Association President, Brittney Lamb.
After the presentation in the Fine Arts Center, students and their parents were led on a campus tour.
---