Alumna Mary Albritton Douglas humbled by honorary doctorate of public service
---
By Kesha Williams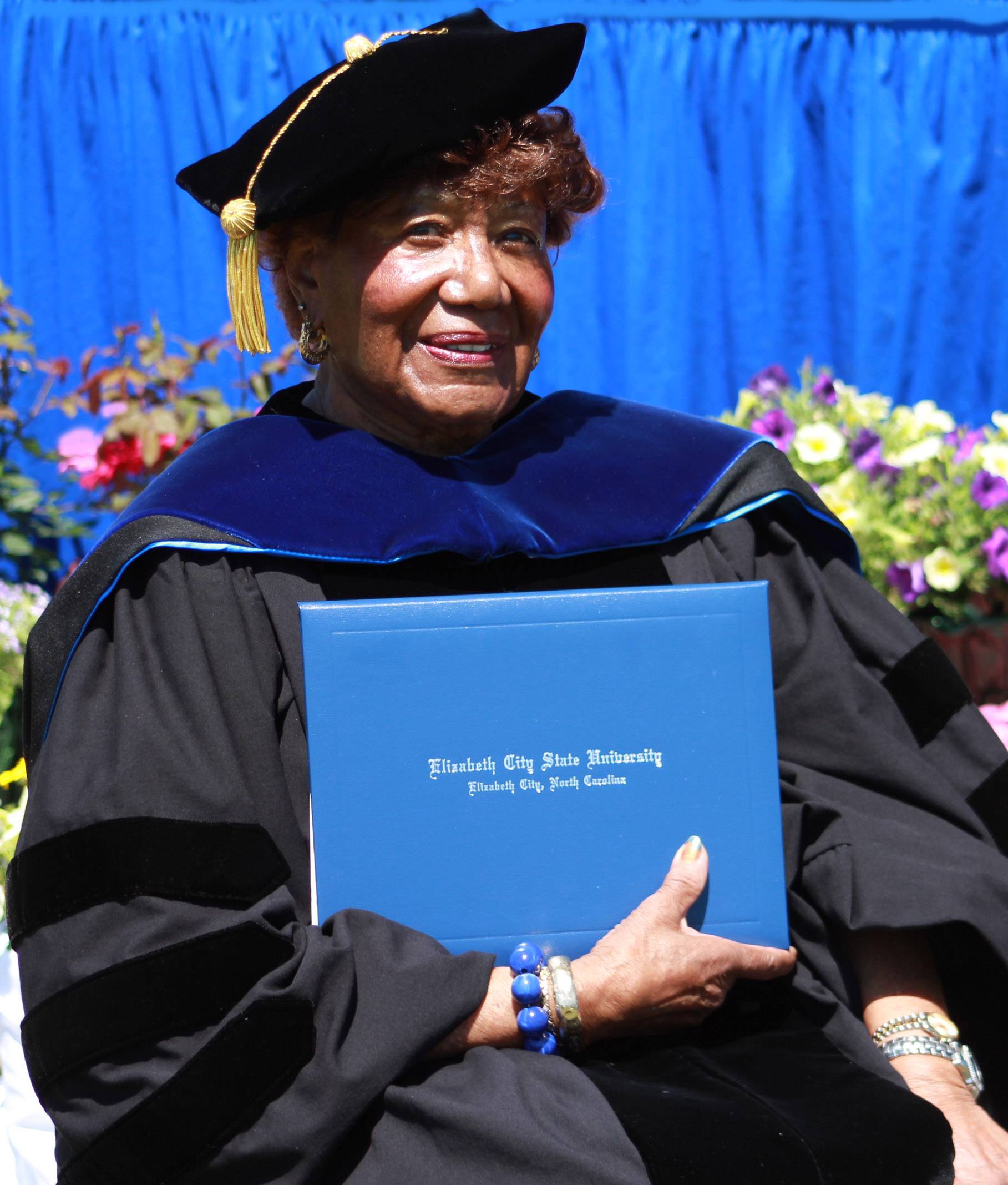 "You never stop learning."
That's an impressive statement from Mary Albritton Douglas. Albritton Douglas a scholar-educator who was the valedictorian of her 1948 high school class at Washington Colored High School in Beaufort County earned undergraduate and a master's degree from Elizabeth City State and Columbia Universities. She also taught elementary and middle school students for more than 30 years in Maryland and New York.
Her learning continued as a volunteer for 30 years at a New York hospital and by traveling as an adult to every continent on the globe except Antarctica.
Albritton Douglas one of ECSU's most active alumnae laughs when describing her travels. She acknowledges that she has been a roadrunner of sorts.
"I have been places I never thought I would go seen people I thought I would never see" she said.
She has visited Rome Italy twice Sydney Australia Barcelona Spain Nairobi Kenya. There were trips to the Dominican Republic Ghana Haiti Japan Singapore Malaysia Panama Islands and half the states in the United States.
As a young teacher in the New York public schools Albritton Douglas journeyed during the summers on excursions arranged for teachers to learn the customs and norms of other countries. Some of her leisure trips were made with her sorority sisters of Sigma Gamma Rho. Others were tours she took with fellow church members. Whether the tour was for pleasure or professional development Albritton Douglas said she was amazed by the lessons she learned on each trip.
"When I was in Kenya I took a safari. We rode on a bus and saw tigers lions and elephants come in quietly for water or food then wander away" Albritton Douglas recalled.
"It was nothing like the African jungle scenes you might have seen in old Hollywood movies. If it was a tour we took as teachers we were expected to spend some time in the company of local citizens learning how they shop or prepare food. Then we had to prepare a report based on our observations."
"One teacher took me to visit her family. They lived in a small place. It had a dirt floor a simple place in a Nairobi Kenya village. She also asked if I would like to see her school" she continued. "It was a simple place a wooden structure where children with bare feet came to learn. They were so glad to meet a Black teacher from the United States. They asked if there were many Blacks in America because all of the magazines they received showed only white Americans."
She assured them there were many Black Americans and they worked in all sorts of jobs in the U.S. Despite the condition of the schools or the communities she visited Albritton Douglas said she tried to inspire the children and the people she met. She returned home eager to relay the lessons learned to her son and daughter and to her husband. Albritton Douglas describes him as an independent Army veteran who was comfortable running the home when his wife was on travel. He enjoyed spending summer days with their kids.
After their children graduated from college and her husband of nearly 30 years died Albritton Douglas said she saw no reason to sit home like many retirees. Volunteering for 30 years as a Certified Nursing Assistant (CNA) at a Bronx hospital and encouraging hospice patients allowed her to give something special to people in need. Instead of the elementary or middle school pupils she taught in the past it was an elderly population she turned to. Many were necessary tasks not completed by medical professionals yet the purest acts of humility—changing bed linens changing diapers helping to groom patients. Some were nearing the end of life. It was an opportunity for Albritton Douglas to assure an aging population some who had few visitors that someone still cared.
"I've had a full life so I'd rather be out helping someone than home watching TV. After I'd done the duties I was trained to do as a CNA I'd go around and visit the patients. I'd go in and say something nice brighten their day" Albritton Douglas said. "I tell grieving family members don't let them (patients) see you crying. Help them plan ahead for a funeral or burial if that is what they want. Reduce their stress. None of us are here to stay after all. "
Albritton Douglas has an impressive record of helping others complete their plans. She has been a dedicated scholarship donor for Elizabeth City State University since 2001. On past occasions she was humbled by thank-you notecards she received from ECSU students who wrote her after receiving scholarships. The cost of college is as much a factor now as it was 60 years ago when she was a student on campus. She recalls being proud to become a member of the college honor society and to repeat the feat she achieved in high school. She met instructors and administrators at Elizabeth City State Teachers College who would make life-long impressions on their students. Albritton Douglas said her relationships with her fellow classmates were an important part of her college experience. She and her peers weren't aware but their generation was on the brink of an incredible lifestyle change for northeastern North Carolinians.
"After we graduated we were standing around crying. We had met more people here than we ever thought we would know. We'd been here four years together and it was hard to imagine moving on and not seeing each other anymore. Some stayed in the South to work and some moved to the Northern states to work. I didn't return to Washington County (NC) for 22 years" Albritton Douglas recalled.
Graduating and becoming a successful teacher allowed her to reach a personal goal she had set and one she promised her family she would achieve. It was possible because dedicated ECSU faculty and administrators were determined to produce a new generation of professionals. Her undergraduate degree was the foundation that led to additional professional accomplishments and journeys beyond her dreams. Recalling that journey was all the motivation she needed to begin investing in others. Her scholarship donations are now her investments in the dreams and future accomplishments of current ECSU students.
"I am doing what alumni should do. It doesn't take a lot of money to get started. Just give as you can."
The theatre inside the Walter N. and Henrietta B. Ridley Student Complex was named in her honor in 2009. She was also the Grand Marshal of the 2009 Homecoming parade. On May 14 the university presented Albritton Douglas with an honorary doctorate degree of public service. Volunteering at the middle school she retired from and volunteering at the hospital allowed her to give service from her heart–she never thought it would result in such a public award.
"I was surprised when they told me I would receive it but I am so proud of this degree. It was just wonderful to attend the commencement and to be part of that day with the graduates."
---