Alumna Dr. Alma Jenkins gives freshmen keys to success
Posted On September 27, 2011
---
Kesha Williams
September 27 2011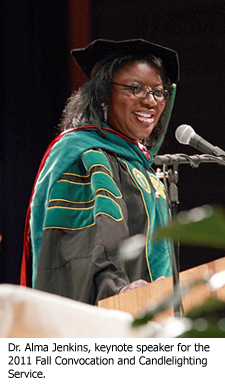 Elizabeth City State University's freshmen class filled the center section of the auditorium of the Mickey L. Burnim Fine Arts Center Sunday night for the annual Fall Convocation and Candlelighting Service.&ampnbsp Alumna Dr. Alma Faye Jenkins recounted her days at ECSU as a student and member of the University Choir.
Jenkins said she strongly admired her biology teacher during those days and assured current students that they too would find professors who will inspire them.
Jenkins graduated summa cum laude from ECSU and earned her medical degree from Meharry Medical College School of Medicine in Nashville Tenn. She completed a residency in internal medicine at Emory University in Georgia and a fellowship in gastroenterology at the former Bowman Gray Medical Center now Wake Forest University Baptist Medical Center in Winston-Salem N.C. Now with more than 25 years of experience Jenkins is an award-winning staff physician at Carolina East Medical Center in New Bern N.C. She is dedicated to uplifting the health of the community through education. She conducts scores of health seminars and has hosted numerous editions of &quotHealth Tips&quot a health information show that is broadcast in Goldsboro N.C.
Speaking to ECSU's Class of 2015 she promised they will have a rewarding college experience if they take the steps necessary to succeed. They must respect the faculty and the knowledge that allows them to serve as university instructors she said. Other advice:
Develop discipline for your physical social and spiritual well being. Be disciplined with your money as well.
Practice being in the moment. Don't worry about what happened yesterday or what will happen tomorrow. Call your parents because they won't always be around.
Pay attention to your passion. If a particular discipline is your passion no one will have to push you to study. Find someone who is working in the capacity or field that you are interested in and find a way to shadow him or her if possible. Learn what the job entails.
Remember that life is a stage and we are all the actors.
&quotIt's your job to get out there pronounce the words just right learn the lines. Because when the curtain closes it will be someone else's turn&quot Jenkins said. &quotIf you use your education you will become the light in this world.&quot
ECSU Chancellor Willie J. Gilchrist told the students that last year's entering class returned to ECSU for a record high retention level and they should do the same. He also encouraged the students to respect the faculty and to do their very best to complete their education in the four or five years that their curriculum entails.
Dr. Anthony Brown vice chancellor for the Division of Student Affairs installed class officers. Dr. Jeanette Evans president of the National Alumni Association completed the pre-alumni induction ceremony.
The Freshman Candlelighting Committee includes the following members:
Mrs. Sherry Lewis chair
Ms. Lolita Turner co-chair
Mrs. Stephanie Bryant
Mrs. Reshema Combs
Mrs. Quay Dozier
Mrs. Lucretia Williams
Mr. Derrick Wilkins
Mrs. Dana Poole
Ms. Alice Outlaw
Ms. Rosa Brown
Mrs. Hope Hohenstein
Mrs. Vicky Tillett
Mrs. Tarsha Rogers
---