Alpha Kappa Alpha Sorority, Inc. Makes Largest Vikings Care Food Pantry Donation Ever
Posted On October 3, 2019
---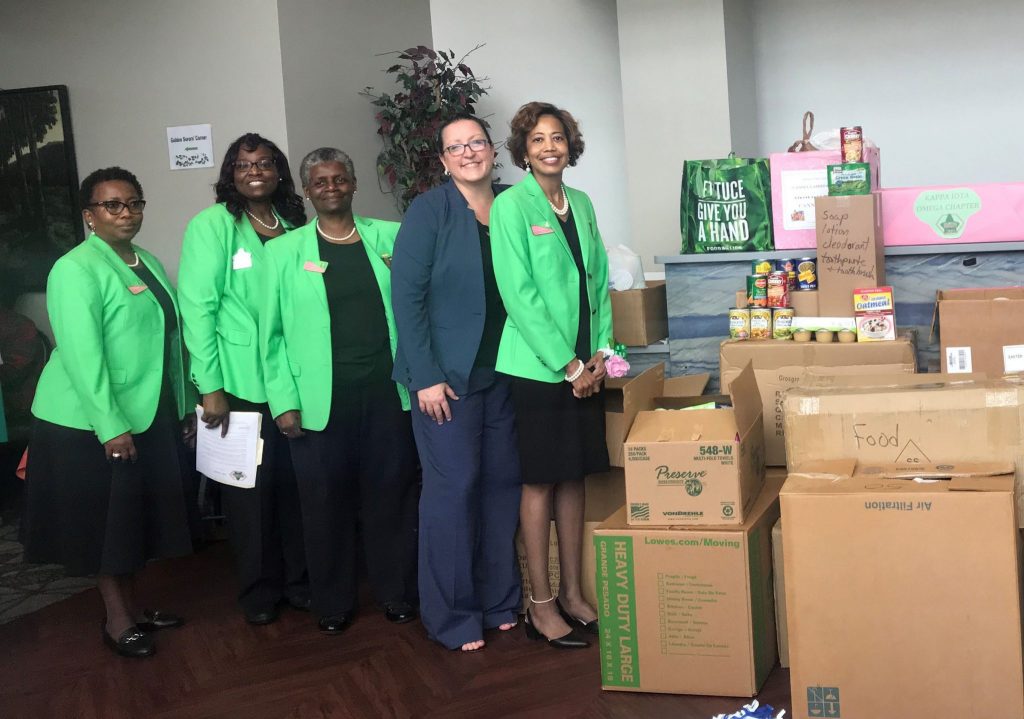 The Alpha Kappa Alpha Sorority, Inc., made the largest food donation ever to the Vikings Care Food Pantry at their meeting in Virginia last month. Present at the meeting was, left to right, Carlise Jackson, Janice W. Baker – first vice president, Yvonne J. Mullen- treasurer, ECSU pantry director Dr. Jennifer Brown, and Sandra Jordan Branch, chapter president.
When Elizabeth City State University's Vikings Care Food Pantry faculty director, Dr. Jennifer Brown, got a call inviting her to a meeting of the regional chapters of the Alpha Kappa Alpha Sorority, Inc., Saturday, Sept. 28, she couldn't have known that this group of professional women was about to create a lasting legacy.
At the meeting – it was hosted by Elizabeth City chapter but held in Chesapeake, Virginia due to the number of participants – Dr. Brown was invited to speak to the women about the work the pantry is doing for students. Students, she told them, helped launch the campus food pantry to help feed fellow students.
And now the women of Alpha Kappa Alpha are feeding ECSU students, too. ECSU's own Janice Baker is an AKA and she had suggested the sorority adopt the pantry as a community service project, leading to what Dr. Brown has described as the largest food donation to-date.
"It's my estimation that it's a minimum of $4,000 worth (of food)," said Dr. Brown. "We're still gathering donations from them. It's the largest donation we have received from anyone."
It is also, she said, "the highest quality (food) and the greatest act of generosity I have ever seen."
Dr. Brown said Wednesday, Oct. 2, was a food pantry day at ECSU and judging from the students' reaction to the donations, they would agree with her.
"The students are extremely pleased," she said.
The event last Saturday did more than feed ECSU students, however. It also called ECSU students to action, creating a buzz around launching new food pantries in high-need areas.
First, said Dr. Brown, through a conversation with a Virginia-area AKA member and educator, the idea to create a pantry at a high school was discussed and plans are in the works. The decision to create that pantry will be finalized by the educator and her school officials, and ECSU would help seed it, but even more plans came of that conversation, said Dr. Brown.
Dr. Brown said as a result of the AKA donations, and the discussion with the Virginia educator, ECSU students are planning on launching a "Pantry Pioneer Program." Dr. Brown says the ECSU students want to focus on the 21 counties within ECSU's service area, and create food pantries in high-need high schools.
"The students will help to determine that," she said.
Currently there are eight to 10 ECSU students working in rotation with the Vikings Care Food Pantry. Dr. Brown says it takes three to four students to operate the pantry on any given week.
Last month, the Vikings Care Food Pantry served 197 ECSU students. For more information about the pantry, contact Dr. Brown at jjbrown@ecsu.edu.
---