AHEC office now open in the Pharmacy Complex
---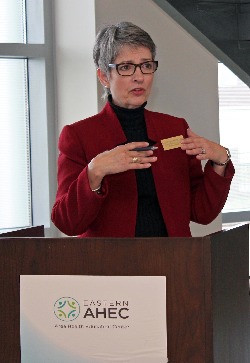 By Kesha Williams
The Eastern Area Health Education Center held a reception in February to celebrate their offices opening in the Pharmacy Complex. Claire Mills, director of the new office, said it was her pleasure to welcome so many people to the event that drew elected officials, health care professionals, university representatives and more.
"Having an office in Elizabeth City will enable us to provide more concentrated health care workforce development and support in Pasquotank, Camden, Currituck, Perquimans, Chowan, Gates and Hertford counties. Grant funding from The Duke Endowment and our partnership with Elizabeth City State University are key to helping us realize our goal," Mills said.
The mission of Eastern Area Health Education Center is to meet the region's health and health workforce needs by being an advanced, lifelong resource for health care providers.
Eastern AHEC partners with colleges and universities, school systems and regional health care agencies to support and encourage adolescents to select careers in the health professions. Other services EAHEC offers:
* Eastern AHEC provides support for practicing health professionals through continuing education programs as well as by working directly in practices to assist with improving care.
* Eastern AHEC offers the RN Refresher Program to nurses who want to reinstate their licenses or want to update their skills. The curriculum has both didactic and clinical practicum components.
* Eastern AHEC's Quality Support Center provides experts who travel to practices to assist them with implementing an Electronic Health Record, meeting Meaningful Use Stages, and using data to improve their care for their patients.
---