A Year for the Record Books: ECSU's Top 10 Stories for 2020
Posted On January 4, 2021
---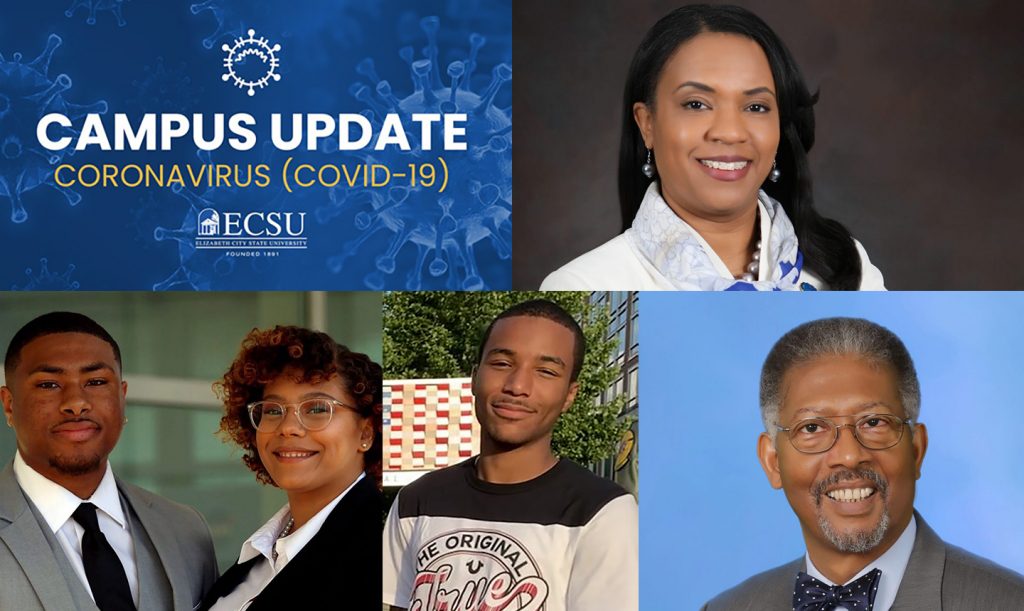 Clockwise, left to right: COVID-19 dominated the headlines at ECSU in 2020; Chancellor Karrie G. Dixon was named one of the top 10 HBCU leaders in the country; sophomores Daimon Rawlinson Jr., Taimara-Syd-nei Hoffler and Nomar Proctor were named to the Coast Guard's CSPI program; ECSU mourned the passing of former Chancellor Thomas E.H. Conway Jr.
By any measure, 2020 has been an extraordinary year. For Elizabeth City State University, it has been one for the record books and thanks to the stories we have written, we have it down for posterity. So here are the top 10 stories for 2020, ranked according to reader popularity.
10) The 10th most popular story for 2020 combines two stories about three students. ECSU saw three of its rising juniors accepted into the Coast Guard's College Student Pre-Commissioning Initiative Program, or CSPI. Nomar Proctor, Taimara-Syd'nei Hoffler, and Daimon Rawlinson Jr., were accepted into the program during the spring semester.
The CSPI program gives eligible sophomores an opportunity to join the Coast Guard and receive two years of tuition, fees, and books as well as a salary and insurance. The students completed Coast Guard boot camp at Cape May, New Jersey before returning to campus as enlisted members of the service. Upon graduation, they will attend Officers Training School and embark upon a career as commissioned officers in the Coast Guard.
9) The ECSU Foundation Board of Directors named six new members to its board of directors in September. Christian Lewis, Lydia Daniel, Dr. Tracey Tullie, Chantel Cherry-Lassiter, Jermaine McKinley, and Bernadine Cobb joined the board for their first meeting Sept. 11.
8) In January, Anita Walton was named ECSU's Vice Chancellor for University Advancement. Ms. Walton came to ECSU with 25 years of higher education administrative experience. Her background includes advancement, student affairs, diversity, and talent management. Her first official day at ECSU was March 2.
7) In January, ECSU's chancellor, Dr. Karrie G. Dixon, was named one of "The Ten Most Dominant HBCU Leaders of 2020" by the HBCU Campaign Fund. According to their website, this is the third group of leaders to be named by the Fund, stating that this "group of individuals has proven their responsibilities for shaping policies, changing perspectives and making decisions that affect millions of individuals in the higher education sector and the daily needs of an HBCU or Minority-Serving Institution."
6) ECSU professor of history, Dr. Melissa Stuckey, was busy unearthing lost history last year. Back in June, she brought to light the forgotten history of the region's first African-American owned bank, Albemarle Bank.
Dr. Stuckey learned about the Albemarle Bank by looking through the 1923 Elizabeth City directory. Her exploration of this history was part of her work preparing for a unit of study for her fall 2020 ECSU course, African-Americans in North Carolina.
5) In December, ECSU announced that it had received a historic $15 million gift from American novelist and venture capitalist, MacKenzie Scott. Ms. Scott's gift made her ECSU's largest single donor in the university's history. The gift, according to ECSU Chancellor Karrie G. Dixon, will help support strategic initiatives such as academic excellence, student experience, athletic success, and faculty and staff development.
4) ECSU named former WNBA and Wolfpack player Tynesha Lewis as its next Head Women's Basketball Coach. Athletic Director George Bright announced the hire at a virtual press conference in May.
3) ECSU launched the academic year with increases in undergraduate and graduate enrollment.
In August, ECSU announced that it had experienced the highest enrollment since the fall 2014 semester when ECSU had 1,867 students. According to the fall 2020 enrollment census, released Monday, Aug. 24, total enrollment was 2,002, a 13 percent increase over fall 2019's 1,773 students.
2) Arguably the saddest news coming out of ECSU in 2020 was the May passing of former Chancellor Thomas E.H. Conway, Jr. Installed as the university's 11th chief executive officer and sixth chancellor in 2017, he took over operations in 2016 when he was appointed interim chancellor by former UNC System president, Margaret Spellings. He then retired in 2018.
1) The coronavirus, or COVID-19, takes top spot on this year's top 10 list. There was perhaps nothing more urgent, disrupting, and menacing as the pandemic that saw the world go into lockdown, and ECSU students sent home in the spring for remote learning. And while ECSU felt the sting from the pandemic in different ways, one thing has been certain, Vikings proved they can be resilient and rise to the occasion under the most challenging circumstances.
For these and all of the stories that came out of 2020, you can check out the ECSU Newsroom HERE.
---