A Viking Legacy: NAA Works to Spur ECSU Enrollment Scholarships
Posted On February 8, 2017
---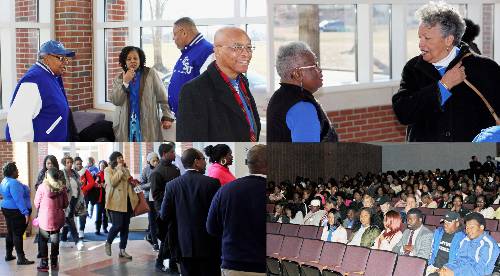 When the auditorium at the Mickey L. Burnim Fine Arts Center filled up with more than 400 high school students Saturday Feb. 4 members of the Elizabeth City State University National Alumni Association (NAA) were on the scene promoting their love for ECSU and Viking Pride while working to increase enrollment and support students at their alma mater.
"We have chapters all across North Carolina and surrounding states" says NAA President Abdul Rasheed. "On an annual basis our primary mission and goal is to recruit students to attend our beloved alma mater."
The NAA says Rasheed has been an "organized entity and affiliate of the university now for close to 50 years." They are a legal nonprofit group that supports the university through advocacy investment scholarships student support and student recruitment.
During the Open House activities the 28 chapter presidents were on campus for an NAA meeting. In all the NAA was on hand to support ECSU recruit students and celebrate a 126 year legacy.
The Winter Homecoming/Open House Initiative was established 15 years ago by the NAA to support ECSU enrollment. Since that time the 28 NAA chapters have been working to bring anywhere from 500 to 1000 students to ECSU for Open House and Winter Homecoming says Rasheed. It is he says an organized effort designed to increase enrollment and keep the legacy of ECSU alive.
"We pay for transportation for the students" said Rasheed. "We underwrite whatever costs related to lunch and other activities on campus while they are here. And we are charged with following up with those students to try and help walk them through to ensure they stay in the process."
Rasheed says if the students are admitted into ECSU then the NAA steps up and works with them providing scholarship support to help them through graduation. Most recently the NAA has made a very large commitment of student support to not only assist students pursue their higher education but also spur enrollment says Rasheed.
Last fall during the 2016 Homecoming game the NAA president presented ECSU Chancellor Thomas Conway with a check committing to a five year investment of $10 million. In order to get the ball rolling on what is now known as the Student Support Initiative Rasheed says the NAA raised $100000 seed money.
Rasheed says that there is great strength in the legacy of alumni. The men and women he says who have graduated from ECSU have gone on to do great things and make significant differences in their families communities and across the nation.
---