A Viking Graduate is Becoming DIY Famous
---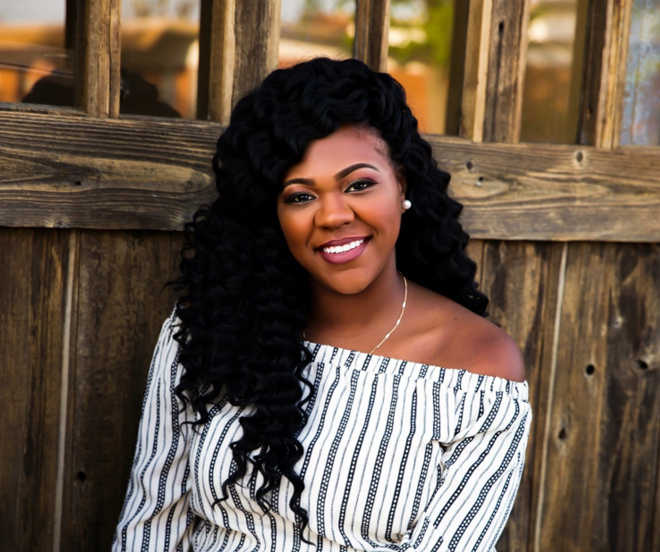 Ashely Basnight is on a roll these days. She's found her passion and it's taking her places.
First she graduates from Elizabeth City State University in 2013, and then lands a job as a software engineer with Boeing in Oklahoma City, and now she's a popular Do-It-Yourself woodworker whose furniture was just featured in the July edition of Better Homes and Gardens.
Basnight, a Currituck County, North Carolina native, explains it in her blog, www.handmade-haven.com. While living in Oklahoma, and working for Boeing, she was looking for an affordable, custom dining table.
"And I could not find anyone in my area to build me one at an affordable price," she writes on her blog.
So what's a savvy, hardworking Viking graduate to do when faced with a challenge? Simple, do it yourself.
Basnight says she jumped online and began finding furniture makers. One, a woman, and then a community of craft-people, inspired her to jump in there and build something.
"I first started off repurposing furniture and spent weeks looking at woodworking plans, wondering if I too could do it," she writes in her blog. "After going back and forth in my head, one day I finally just said enough is enough! I have to go for it."
Basnight's spirit and drive first led her to a Home Depot where she, "bought the biggest saw I could find." From there, she went home and built her first dining table.
"To my surprise it was pretty good," she states in her blog.
Pretty good may be an understatement since Basnight's determination and decision to take on woodworking first led her to launching Handmade Haven LLC, then selling her work online, and eventually being sponsored by Home Depot to promote products.
And all of that led to her work being featured in the July edition of Better Homes and Garden, a magazine so popular that for her fellow ECSU graduates, finding a copy has been next to impossible. But the lack of magazine availability hasn't stopped word of mouth from getting around, and posts on social media have also been highlighting Basnight's achievements.
Since Basnight found her passion, her work has been noticed by a number of tool brands, as well as Home Depot. The Home Depot will send Basnight tools to test and review, and she shares her insights on her Instagram page, @smashingdiy.
And an Oklahoma City news station even got in on her growing fame, producing a segment which highlighted her work. You can watch the news report on her work here.
Basnight is developing a following, all because she wanted that custom table that in the end, only she could build. And she credits her parents with laying the groundwork for her passion.
"Since I was a little girl, I have always been a hand girl, thanks to my dad. Always working around tools, even though we were working on cars, tools never intimidated me," she writes. "And to go along with that I always had a thing for creativity and art (thanks, Mom). Put those two things together and you have a woodworking, furniture making, DIY machine!"
Basnight says the credit for preparing her for success goes to ECSU.
---