A Q&A with ECSU Interim Chancellor Dr. Karrie Dixon
---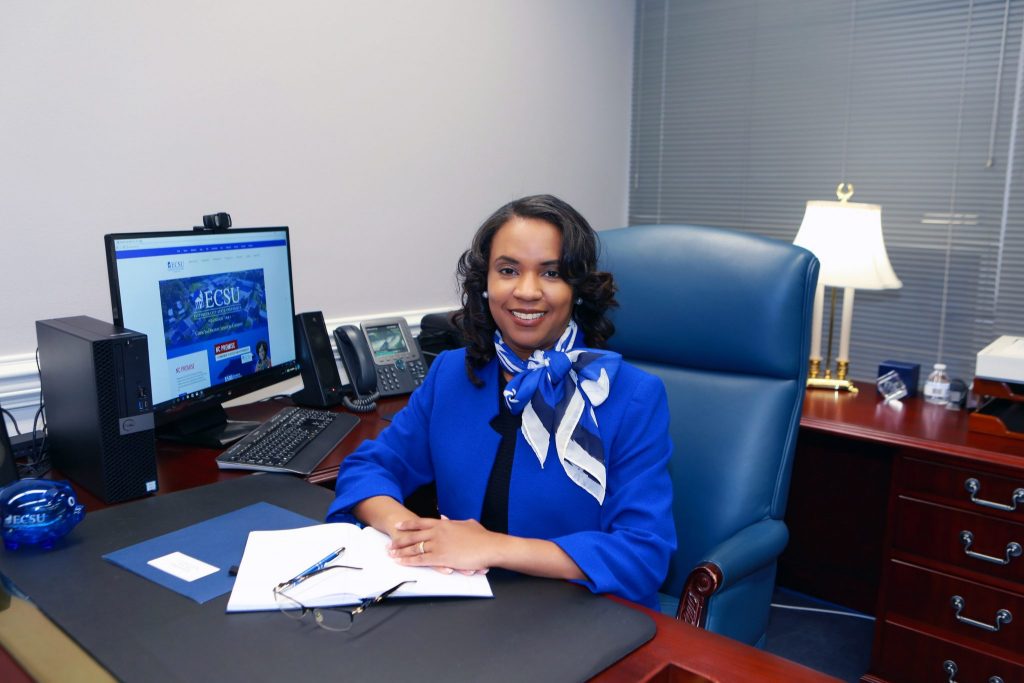 As of June 1, Dr. Karrie Dixon is Elizabeth City State University's Interim Chancellor, the institution's Chief Executive Officer. She sat down and answered a few questions, highlighting her vision for ECSU.
What do you hope to accomplish in your initial days as interim chancellor?
I want to create opportunities to listen to students, faculty and staff. I also want to hear from our alumni and the community. Over the summer, I will host a series of listening tours on campus and in the surrounding area. It's important for me to invest my time with the diverse constituents of ECSU. These sessions will allow for great dialogue and exchange of ideas. This is a time to start anew and to reinvest in our students and this community.
I will also use this time to outline the ECSU New Directions plan and share the ongoing vision of the university. I, along with the leadership team, have already begun the process of setting a course to increase enrollment, ensure student success, reinvest in academic programs and faculty, build stronger partnerships, and make an economic impact on this region.
So, as you can see, there's a lot of work to do, and I want to make sure that we all have a role in the ECSU success narrative.
Enrollment has been a priority at ECSU in recent years, and on the upswing. Talk about some of the points you plan to address to continue this increase and sustain growth.
Enrollment is one of my top priorities. We are excited to be a part of the NC Promise Tuition initiative, and I can already see that it is attracting a lot of interest in ECSU.
The conversation across the country points to a need for access to affordable higher education. ECSU is one of three UNC System institutions working to answer that call. But that's just the beginning. Our admissions office is working diligently to give prospective students and their families an opportunity to join the Viking family through a variety of communications and outreach solutions. We are paying attention to prospective students' needs through each touch point and providing them with the necessary information that will help them make ECSU their first choice.
I am proud of our admissions team and the work that they do on a daily basis. Our admission counselors and recruiters really care about our students, and it shows. I will continue to invest in this area and expand our recruitment territories. I am committed to offering affordable tuition and increasing access for citizens who are interested in attending a four-year institution.
What are some of the innovative ways ECSU can attract community college students?
Partnerships will be a key to our success. ECSU will be a leader in the region for establishing partnerships with community colleges through articulation programs. Our goal will be to remove the obstacles for transfer students. We will stay committed to helping students move from an associate's to a bachelor's degree.
It's our job to create pathways for students to matriculate and to support accessibility to higher education for qualified students. This is a part of our history, a part of our mission, and it will be a part of our future.
How would you describe ECSU's academic programs?
Currently we offer 25 baccalaureate and four master's degree programs. We have a diverse offering, providing students not only a solid foundation in university education, but also cutting-edge career opportunities. There are many outstanding academic programs, but I want to focus on the driving force behind our degree program inventory.
One of our biggest strengths is our faculty. We have faculty who are nationally and internationally recognized in their fields, producing valuable research and providing students opportunities to work alongside of them.
I encourage everyone to visit our website and take a look at our academic offerings. We are growing and expanding at a good pace.
Student success is a major focus for any university. What is your vision for promoting student success at ECSU?
Our new Student Success Center is one example here. We are working to find innovative ways to give our students every opportunity to succeed. ECSU's record of student success can be seen in its graduates and the work they are doing in the world. We will continue to offer a high value education while looking for ways to enhance the student experience.
Student success is the responsibility of everyone at this intuition. We will support our student's matriculation through academic advising, support services, student engagement and innovative opportunities that lead to graduation and beyond.
What message do you have for ECSU alumni and supporters of the university?
ECSU's alumni are some of the most proud and dedicated I have ever seen. Their work to support their alma mater is tireless, and I couldn't be more excited about working with them.
The ECSU National Alumni Association and all of its chapters work to recruit students to ECSU, providing the university with significant exposure. Each February, the Alumni Association pays for the transportation of more than 500 high school students from the southeast region of the United States and hosts them during an open house event on campus. This is just one example of the type of support that is shown to ECSU by the alumni. The synergistic effort of our alumni is definitely a labor of love for this institution.
What are some of your major objectives to strengthen collaborations between ECSU and community partners?
We have developed a Civic Action Plan pointed at engaging our students in work beyond the campus. The plan empowers students with the ability to move beyond the campus and into the surrounding community to not only participate in the community and meet its needs, but also to enrichen their lives as future leaders.
In the Civic Action Plan we have three commitments to our students: to empower our students, faculty, staff, and community partners to co‑create mutually respectful partnerships in pursuit of a just, equitable, and sustainable future for communities beyond the campus—nearby and around the world; to prepare our students for lives of engaged citizenship, with the motivation and capacity to deliberate, act, and lead in pursuit of the public good; and to embrace our responsibilities as place-based institutions, contributing to the health and strength of our communities—economically, socially, environmentally, educationally, and politically.
We want to continue working with the surrounding communities. ECSU is a part of this community, not only employing residents, but also contributing to the well-being and economic stability of the region. We have a staff of dedicated professionals who have been a part of this community for many years, who are working to not only broaden ECSU's reach into the community, but also to welcome the community to our campus.
I want the region to be proud of this institution. We will be looking for new and innovative ways to share our resources with the region.
As the interim chancellor, what should we expect from you as the new leader at ECSU?
I am honored to be given this opportunity to serve as the interim chancellor. ECSU is an exceptional institution, with exceptional and talented students and employees. I am privileged to stand on the shoulders of many great men and women who have come before me.
With that said, you should expect accountable leadership. We will refocus, realign and readjust our sails to make sure we are headed in a new direction. You should also expect my full commitment to students, faculty, and staff. One of my priorities will be to focus on providing students and faculty with the resources they need to be successful.
I am also committed to working closely with our alumni and donors to find creative solutions to increase giving. I look forward as well to extending our reach further into the community and collaborating in a way that benefits the university and the region. As I continue to work with our leadership team, you can count on me to think strategically, to set measurable goals and to be accountable to our stakeholders.  We are truly headed in a new direction, and it's the right direction.
---