A Non-traditional Ascension: Meet Tonya Thompson
---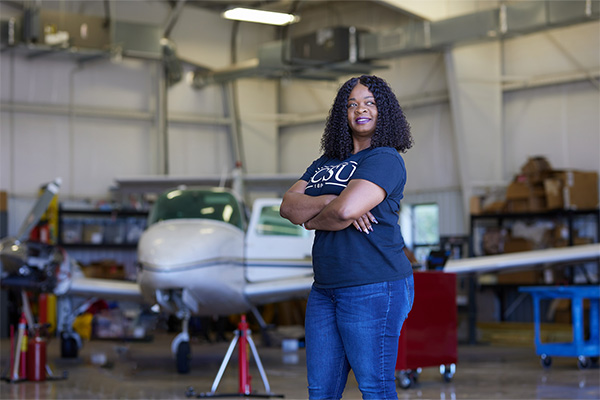 Tonya Thompson's job in the U.S. Army was aircraft refueling. Sometimes, she'd get to fly with the pilots in their aircraft.
"I think that stemmed my love of flying," she said. "I would often be over the pilot's shoulder asking questions like, 'what does this button do?'" 
Ten years later, as an Army veteran and Elizabeth City State University (ECSU) soon-to-be graduate, Thompson knows a bit more about those buttons inside the aircraft. On May 6 she graduates with a Bachelor of Science degree in Aviation Science. Her studies spanned from air traffic control to meteorology to unmanned aircraft systems. 
"I learned every aspect of aviation," she said. 
That lifelong learning experience almost didn't happen at ECSU, however. 
In her research of flight schools, initially Thompson only found options in Florida. That wasn't her ideal location. 
"Right when I was about to give up, one of my friends at the U.S. Coast Guard in Elizabeth City told me about ECSU and that they have a flight program. I did my research and applied in 2019 and started Spring 2020," she said.  
Having taken college classes in the military, Thompson had transfer credits that helped her accelerate as a Viking. And she hit the ground running.  
"I didn't feel like an outsider because I was a non-traditional student. I was welcomed and people kept asking me to get more involved. I used to be an introvert," Thompson said. "My professors always took me with them as an ambassador when they went to talk to other schools. It shaped me and sharpened me." 
Socially, Thompson has sprouted as well. In Spring 2022, she became a member of Delta Sigma Theta Sorority, Incorporated. 
After graduation, Thompson will return to Washington, D.C., for her second internship with the U.S. Department of Defense. She was asked to return to the Pentagon this year after completing research there during Summer 2022. While there, her learning lens spanned from supply and demand, to research and evaluation to cost effectiveness.  
"I was among the top professionals in the world, in that field," she said.  
In Vikingland, Thompson is assured she's among the best, as well, and that she made the best matriculation decision. Long term, she aspires to, "be one of those people in the background who can say I helped with this satellite, I helped make it better or I helped come up with a drone that can make responding to natural disasters better." 
"Contrary to some thinking, HBCUs are very academically focused and family oriented," she said. "I know I couldn't have picked a better school to come to. It wasn't by choice at first because I didn't know about it, but it was meant for me to be here." 
Hear more of Tonya's story:
---