A Man of Letters: ECSU Alum Named TEDxCharlotte Finalist
---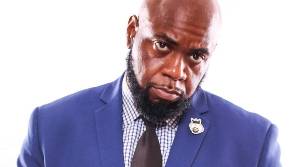 The sneaker culture a phenomenon that is so relevant to contemporary America it deserved its own course taught by a professor who published a book on the subject "Sole Food: Digestible Sneaker Culture." Jemayne King an English professor at Charlotte North Carolina's Johnson C. Smith University is a 2000 Elizabeth City State University graduate with a Master of Art in English Literature from Virginia State University and soon to hold a Ph.D.
He's also a finalist in the TEDxCharlotte program.
TED or Technology Entertainment and Design was established to promote ideas across the globe. The TED Talks have become synonymous with progressive ideas in the areas of technology education and design. TEDx is a spin-off aimed at bringing those same innovative ideas and conversations to communities across the country.
On June 7 in Charlotte the winner of this year's competition will be announced and King could be that man. Along with other finalists King will give his TEDx talk – he will discuss his research into sneaker culture – and a panel of judges will decide the outcome.
In an interview with the website Charlotte Agenda King was celebrated for being the first professor to explore the largely urban cultural phenomenon sneaker culture. And perhaps there are few academics as well suited for the job since King himself is an avid collector of sneakers.
In the interview King observes that Charlotte is at "the forefront of sneaker culture." He talks about the history of the culture and his own collection.
Sneakers whether they are strictly athletic or fashion-oriented explained King can be largely associated with a desire to emulate those people who would endorse a pair of Nikes. Like Air Jordans wearing a pair of the highly vaulted shoes would indicate a desire to be successful like the basketball superstar.
King also explores sneakers and their relationship with Hip Hop culture examining the variety of style emanating from the Hip Hop scene as it evolved over the years.
A native of Franklin Virginia King is a member of the Sigma Tau Delta English Honor Society and Delta Epsilon Iota Academic Honor Society. He is a published poet and author but perhaps most importantly these days he's the expert on sneaker culture.
In 2014 King became an ambassador for the American Heart Association when he was awarded the AHA's Lifestyle Change Award. He also a member of the United States Press Association and the National Association of Black Journalists producing and co-hosting The Gentleman and The Jerk podcast through the A Plus Entertainment Group.
King is pursuing his PhD in literary criticism from Indiana University of Pennsylvania.
---