A Love of History Led Eyricka Johnson to a Museum Internship
---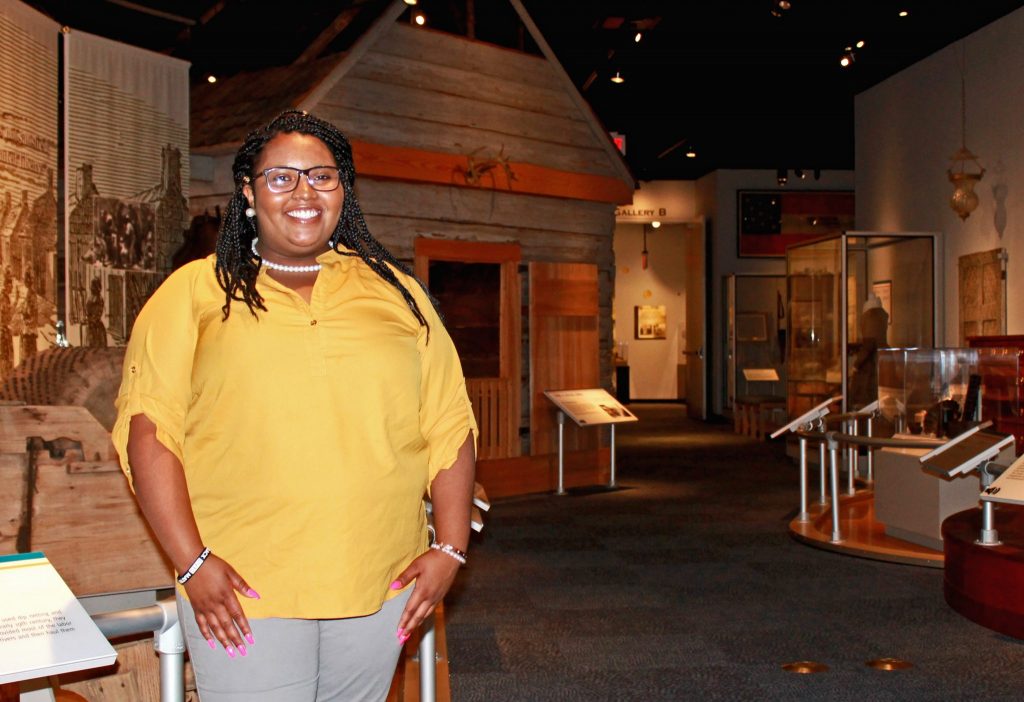 ECSU senior, Eyricka Johnson, stands inside the Out Story Exhibit at Museum of the Albemarle. Johnson, a history major, will be a summer intern at the museum, working in the collections department.
Eyricka Johnson stands inside the Our Story Exhibit at Museum of the Albemarle, her face beaming with excitement. The Elizabeth City State University senior knows that for the next two months this will be home, immersed in the one subject she's passionate about, history.
Johnson will be an intern at the Elizabeth City-based museum, a part of the North Carolina Museum of History system. She'll be working under museum curator Wanda Lassiter in collections, learning how to handle the vast inventory of historic artifacts.
"This will give me a better appreciation (for history)," Johnson said of her museum internship. "The artifacts make (history) more real."
Johnson's love of history became apparent when she was a student at Louisburg College, in Louisburg, North Carolina. A private, two-year institution, her plan was to earn her Associates Degree in psychology and then transfer to ECSU. But a history professor there helped her change her direction.
"He made me fall in love with history," she said.
And then there are Johnson's friends. Listening to her talk about history, they told her that it was clear she has a future as a history teacher.
Johnson says she can talk about history easily and that fact led her to making a decision to teach. She has, she says, found her passion.
Johnson says U.S. history in general interests her, but she also enjoys the regional history found at Museum of the Albemarle. She says she especially enjoys the rich African-American heritage found in the area, specifically Elizabeth City's role in the famed Underground Railroad, a network that would help enslaved people find freedom in the north.
"I'd really like to work with Dr. (Melissa) Stuckey on the Rosenwald School," said Johnson.
The Rosenwald School building can be found on campus and was at one-time a practice school for students studying to become teachers. The historic structure dates back to the 1920s and is located across from Williams Hall. It will eventually become an African-American Heritage Center, celebrating the history of not only the Rosenwald School and ECSU, but also the region.
For now, however, Johnson will be learning something about museum collections. She'll likely work inside the museum's second-floor warehouse where aisle after aisle of historic artifacts are stored and catalogued, and museum staff prepare them for exhibits.
The opportunity to be a museum intern is just one of many things Johnson has found rewarding about her time as an ECSU student. A second generation Viking whose brother is also an alum, Johnson is the Student Government Association vice president in charge of internal affairs, a member of the university choir, a member of the Honors Program, the History Scholars Club, and a work study student.
ECSU keeps Johnson busy, and, she says, she loves every bit of her life here. She will graduate in May 2019.
"I love ECSU," she said.
---