A Legacy of Leadership: Meet Derek Felton Jr.
---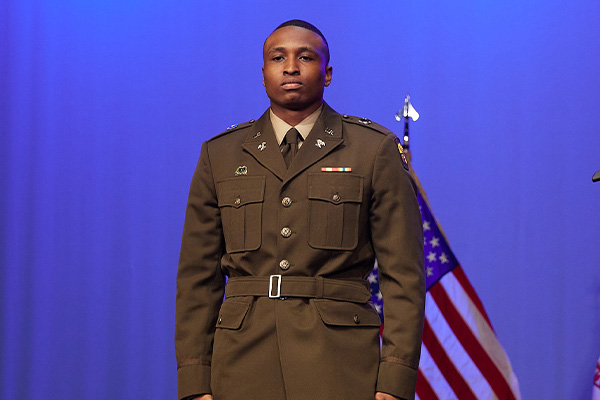 Derek Felton Jr. grew up in Elizabeth City, N.C., and knew his journey would take him to Elizabeth City State University (ECSU). It could have been because he was following a strong family legacy that led through the institution or was coming to a place where he could pursue his passion. He graduates on May 6, with a Bachelor of Science degree in Emergency Management and as a newly commissioned Second Lieutenant in the U.S. Army.  
 "I graduated from Northeastern High School in Elizabeth City where I played football and was part of the Junior Air Force ROTC," he said and boldly admits, "I didn't plan on attending another university. ECSU has a family atmosphere, and I'm family oriented, so it was a great fit for me."  
 Felton is one of 18 family members to attend and graduate from ECSU. To name a few, his mother, Dr. Mary Felton, graduated in 1995, and his sister, Lakenya Felton, earned her degree in 2015.  
"The ECSU legacy inspired me," he said. "With future generations of my family, I can tell them about my journey and how I was supported when I came to this university and met amazing people from different cultures." 
Felton also decided to attend ECSU because it was an HBCU – Historically Black College or University.  
"I wanted to be surrounded by people who related to me but also come from different parts of the country and the world so I could absorb the diversity and vastness of their experiences," he said. 
During his four years on campus, Felton was part of ECSU's ROTC program, Viking Battalion. He went to Basic Training at Fort Jackson in Columbia, S.C., the summer after his sophomore year, and Fort Knox in Fort Knox, Ky., for Advanced Camp the summer after his junior year. Upon graduating, he received an active-duty assignment and will train as a logistician or quartermaster at Fort Stewart, in Ft. Stewart, Ga. 
He currently serves as the Viking Battalion's commander, a position reserved for the unit's leading team member. He notes that the ROTC has taught him how to be a leader and that good leaders stand alongside their teams in all situations. 
Felton selected emergency management as his major because he said it relates to the ROTC and U.S. Army.  
"Emergency management is broad, and you learn so much about various areas. You can use the degree in so many ways—from being a paramedic, firefighter, police officer to managing both natural and humanmade disasters," he said. "I wanted to learn how to save people and perfect my techniques in emergencies."  
His plans include going to the Army's air assault, airborne and paratrooper schools.  
"In the Army, there will be situations where you are called into action and should be able to take care of the people you are supporting," he said. 
The lessons of leadership Felton learned throughout his journey fuel his passion for ultimately reaching the rank of U.S. Army major and obtaining a master's degree in cybersecurity.  
"I plan on using the Army as a foundation for my future goals. Being part of this community has brought out so much in me, and for that, I am grateful," he said. "I want to make more minorities feel comfortable about being part of the military."  
As he prepares for the next level after graduation, Felton reflects on his inspirations, which include his parents, U.S. Army Sergeant Jerry Wynn, who was his National Guard recruiter, and NBA superstar Lebron James.   
Felton's take away, "If you are always winning, what are you learning?" 
Wise words from an aspiring, high-ranking military official who lives by the Army's central message of "Decide to Lead." 
Hear more of Derek's story:
---