400 Regional High School Students Participate in ECSU's Women in Mathematics Forensic Investigation Lab
Posted On October 31, 2019
---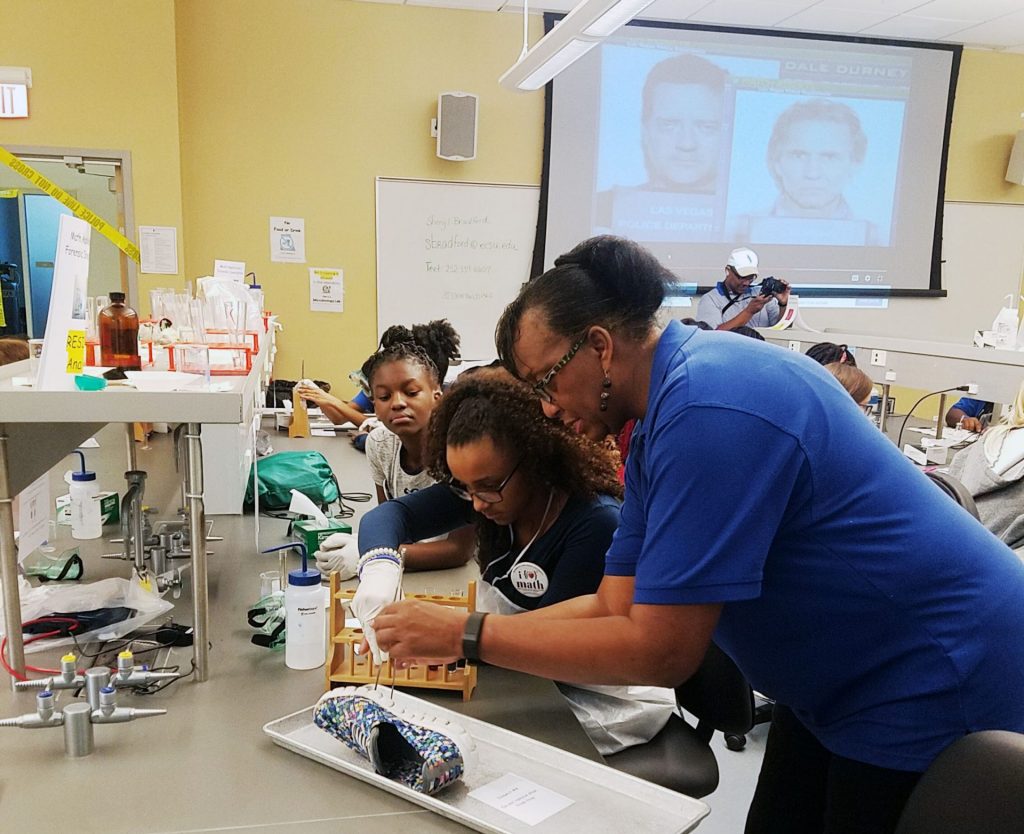 Elizabeth City State University recently hosted 400 young women from across the Northeastern North Carolina region for a Forensic Investigation Lab as part of the 24th annual Celebration of Women in Mathematics event held on campus in October. The event is sponsored by the ECSU Center of Excellence in Remote Sensing Education and Research (CERSER).
According to the dean of the ECSU School of Science, Aviation, Health and Technology, Dr. Kuldeep Rawat, the middle and high school students from across the region were able to "step into a world of forensic science in the laboratory."
ECSU's research operations manager, Sheryl Bradford, led the high school students in real-life forensic science, performing residue analysis, fiber microscopy, and collection of data while attempting to solve a "who done it" crime scene. The crime scene was set up by Ms. Bradford.
"Using basic math applications and analytical techniques, the students rotated to different parts of the lab, putting together the pieces of evidence to help solve the crime," said Ms. Bradford.
Ms. Bradford says that each high school team collected analysis reports and created charts to evaluate the evidence and determine a likely suspect.
"There's always a trace left behind," said Ms. Bradford. "It's up to you to observe, collect data and think critically before coming to a conclusion."
Ms. Bradford said as students rotated through the various stations in the lab, they were exposed to some of the cutting-edge advancements in science and technology. They also learned how math is applied to all types of forensic investigations.
"Throughout the scenario students were encouraged to develop their own skills of observation and critical thinking, investigate the scene of the crime and analyze evidence by means of math, chemistry, biology and an online shoeprint database," said Ms. Bradford.
---