ECSU Foundation Board of Directors Elects New Officers
---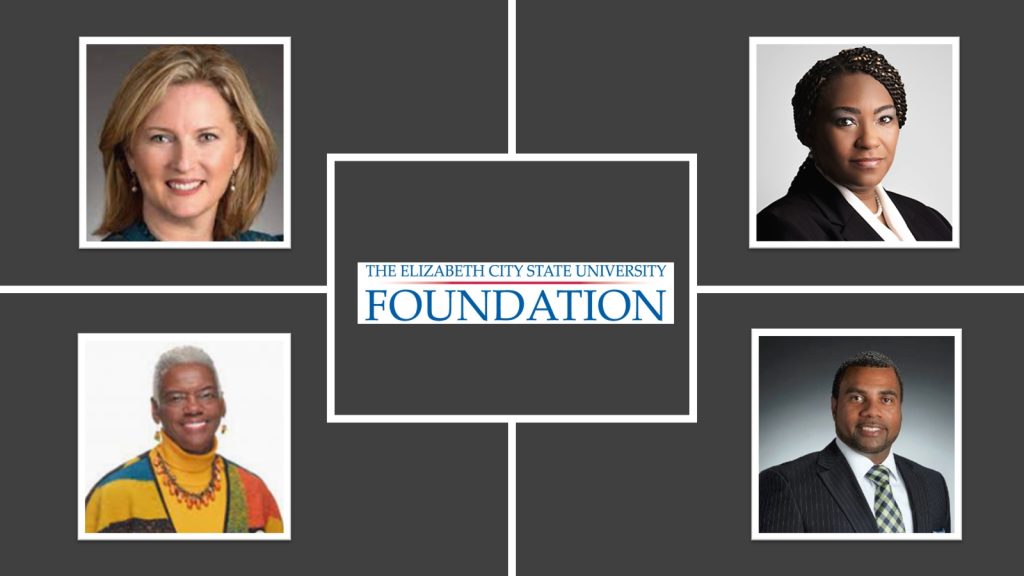 The Elizabeth City State University (ECSU) Foundation Board of Directors elected new officers who will serve a two-year term in their Board leadership roles starting July 1, 2022.  Kimrey Rhinehardt was elected Chair, Chantel Cherry Lassiter will serve as Vice Chair, Dr. Lenora Jarvis Mackey was elected Secretary, and Jermaine McKinley will be Treasurer.
"Congratulations to our Foundation Board members on their newly-elected roles.  We appreciate their leadership and collaboration to preserve and enhance the well-being of our beloved institution," said ECSU Chancellor Karrie G. Dixon.  "We also thank Dr. Peter Eley for his service as Board Chair and his advocacy and support of his alma mater."
The Foundation Board was established in 1971 as a non-profit organization to support students, faculty, and the operational needs of the university through its fundraising and philanthropic efforts.
New Officers
Mrs. Kimrey Rhinehardt founded Gray Zone Strategies, LLC in 2017.  Her company offers professional services in higher education, management consulting, corporate strategy, business development, nonprofit strategy, and much more.
Rhinehardt also teaches Public and International Affairs, as well as Conflict Management and Resolution, at UNC Wilmington.  Prior to starting her own company, Rhinehardt held leadership positions related to federal relations and national security partnership at UNC System for 13 years.
In addition, she was chief federal legislative and policy advisor to the UNC Board of Governors, University System President, General Administration leadership, the Chancellors, the 17 UNC System constituent institutions, and affiliate organizations.
Rhinehardt has a bachelor's degree in Political Science from Appalachian State University, as well as a master's in Conflict Management and Resolution from UNC Wilmington.
__________________________________
Mrs. Chantel Cherry Lassiter opened her CCL Law Office, PLLC nearly three years ago.  She has a passion for serving underserved communities and fighting for justice, and her law practice focuses on civil rights, child custody and support, juvenile law, and personal injury cases.
Lassiter served as a Guardian Ad Litem with the North Carolina Judicial Branch, as well as Staff Attorney with the Southern Coalition for Social Justice.  She began her legal career as a paralegal, and then spent eight years as a Child Support Agent with the NC Department of Health and Human Services.
She spent her early years in Hertford, and moved to Elizabeth City during middle school.  Lassiter holds a bachelor's degree in Criminal Justice from ECSU, a master's in Public Administration from Strayer University, and Juris Doctorate from North Carolina Central University.
__________________________________
Dr. Lenora Jarvis-Mackey is a life-long advocate for the university who founded a youth development nonprofit organization in Currituck, NC, as well as the River City Community Development Corporation.
Jarvis-Mackey earned her Elementary Education degree from ECSU, but never worked as a teacher.  Shortly after college graduation, she and her husband moved to Brooklyn, where Jarvis-Mackey took both teacher and social work exams.  She was offered a job as a social worker and soon found her niche.  Before leaving New York, Jarvis-Mackey worked as a community organizer for large public housing project residents.
In December 2021, Jarvis-Mackey was recognized for her service career when ECSU awarded her an honorary doctorate degree.
__________________________________
Mr. Jermaine McKinley is Finance Director for Amazon, and has served as a leader, executive and Chief Financial Officer for well-known national companies such as Oracle, Patheon, Covance, Dell, and GE Healthcare.
McKinley is experienced in working with boards and C-level executives, and specializes in improving business operations, performance, and process improvement to drive revenue, generate cost savings, and promote a positive work environment.  His career spans multiple countries and diverse industries including information technology, healthcare, manufacturing, and corporate financial planning.
McKinley earned a bachelor's degree in Accounting from North Carolina State University.
Learn more about ECSU's Foundation Board of Directors.
---