2019 ECSU Day of Giving Exceeds Fundraising Expectations
---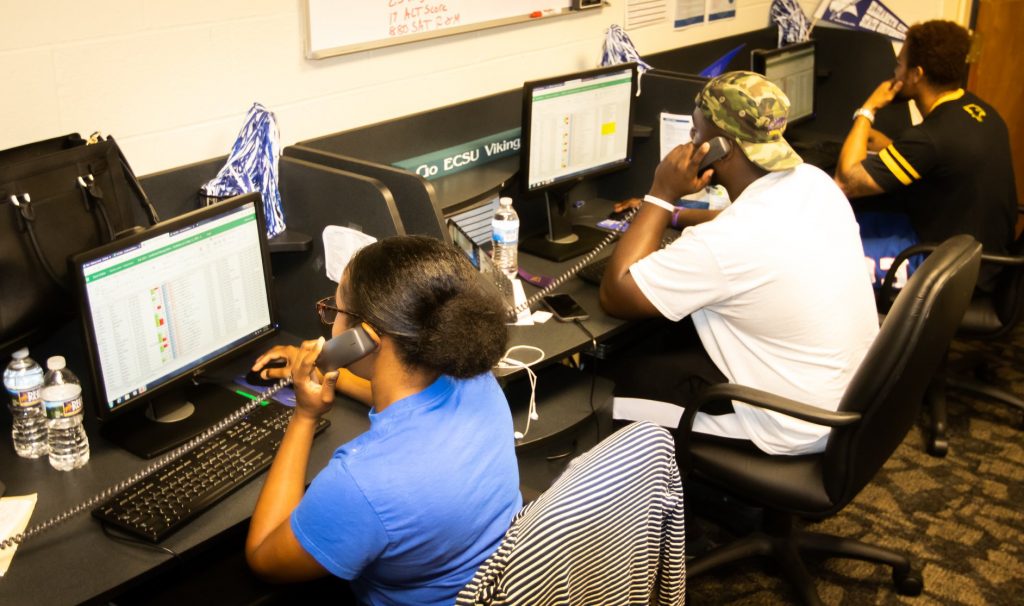 Volunteers operate the phones at the Wilkins Call Center on the ECSU campus for the 2019 Day of Giving campaign.
The 2019 Elizabeth City State University Day of Giving exceeded its fundraising goal and University Advancement officials say it's still not too late to make donations toward scholarships and other programs. This year's goal, according to Letitia Evans, interim vice chancellor for University Advancement, was $200,000, and $281,000 was raised.
Evans says the support received this year has been inspiring. She says the third annual ECSU Day of Giving is a testament to the support from alumni, ECSU staff, and community members through their willingness to raise funds to benefit students.
"The Day of Giving campaign is an exciting time for us," said Evans. "From alumni to staff, to community members, it's an exciting time."
Evans says that aside from the $281,000 raised this year, surpassing expectations, the amount of individual gifts increased 100 percent over last year.
This is the second year for Day of Giving to surpass its expectations. Last year, the fundraising goal was $150,000 and more than $200,000 was raised.
This year's Day of Giving began in April with the launch of the campaign. The event culminated with The Day of Giving on May 31, and volunteers working the phones to raise funds.
Proceeds from the ECSU Day of Giving 2019 will support a wide variety of initiatives that include general scholarships, faculty research, academic programs such as aviation and education, athletics, public radio station WRVS-FM 89.9, the Veterans Center, and more. With broad support from alumni and supporters, ECSU is committed to its role as a leading regional community partner for many years to come.
During the ECSU Day of Giving, donors engaged in several challenges to build camaraderie and generate excitement: Decade/Class Year Challenge, ECSU Department Challenge, Greek-Letter Organization Challenge, Student Challenge, IGTAM (I Give Ten A Month) Challenge, and the Community Challenge.
"The competition gets fierce and fun, but it's all for a great cause," said Evans.
While this year's event came to a climax with the Day of Giving on May 31, Evans says giving season is not over yet. Donors can continue to make gifts toward the giving day efforts by going to www.ecsu.edu/ecsugives.
Gifts made through June 30, the end of the ECSU fiscal year, will count toward the 2019 Day of Giving overall total.
---