2016 A Viking Year in Review
Posted On January 3, 2017
---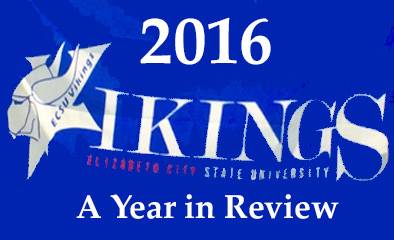 For Elizabeth City State University, 2016 was a busy year. Here are just a few of the stories we wrote about, highlighting campus community life. For more stories, check out our Viking News page on the website, www.ecsu.edu.
Concert Choir Performs at White House
Back in February, the ECSU Concert traveled to the nation's capital for one of their most memorable tours—inside the White House.
Dr. Walter Swan, director of choral studies, said the tour resulted from an invitation by U.S. Coast Guard Commander and ECSU alumnus Warren Judge ('97). Swan gladly completed all the travel arrangements and took the students to the White House on January 27. While the President and First Lady were not on site, the choir performed inside the residence to the delight of fellow tourists and staff. Swan said the event was not only an opportunity to perform and tour, but a means of challenging his students.
"The students were challenged to take the best photos possible using cell phones as mobile libraries and to note architectural details, acoustical properties, decorations and relevant artifacts in sight. This exercise allowed the students to form an active classroom on site and engage with an audience, capture moments in their history, and promote the university. I assure you the students sang so beautifully the other tourists will remember them as much as the White House tour," Swan said.
UNC System President Tours Campus
From the moment University of North Carolina President Margaret Spellings walked through the doors of Elizabeth City State University last April, it was clear that the newly appointed system chief was a welcome guest.
After meeting with ECSU Chancellor Thomas Conway, President Spellings was greeted by staff, students and faculty in the Marion Thorpe Administration Building and posed for photographs with each group. Student leaders commented on how much they enjoyed their time with her and were impressed with her desire to listen to them and answer their questions.
Her day-long tour continued with a visit to Museum of the Albemarle where the ECSU 125th anniversary exhibit was being prepared for its May opening. Greeted by the museum's director, Bill McCrea, and curator, Wanda Lassiter, President Spellings was given a sneak peek of the exhibit before attending a luncheon with the ECSU Board of Trustees. During the luncheon, the president discussed several issues with the board, including tuition, minimum admissions requirements, and the significance of HBCUs to the mission of higher education. Later that day President Spellings toured the campus before departing for Chapel Hill.
Museum Exhibit Celebrates 125th Anniversary
Opening last May at Museum of the Albemarle, the exhibit, "Elizabeth City State University: A Legacy of Excellence and Resilience," was a central part of the 125th anniversary of ECSU.
Featuring numerous photographs, timelines and artifacts, the exhibit tells the story of ECSU up to present day. Free and open to the public, the exhibit will be up through the end of February 2017.
New Aviation Lab Opens
Elizabeth City State University Aviation Science students, staff and faculty celebrated the opening of a new, two-sector, aviation laboratory in McDonald Dixon and Bishop M. Patterson Hall last April. One side of the room is a NASA Aerospace Education laboratory (AEL) while the other is an Unmanned Aerial Systems (UAS) laboratory. This laboratory resulted from funding ECSU received from NASA (2015) and the Golden LEAF Foundation (2014) for enhancing Aerospace/Aviation Science education in the northeast North Carolina region. Additional funding was provided by a Department of Education-SAFRA grant.
The NASA AEL sector houses multiple desktop flight simulator stations, renewable energy station (solar panels, wind turbines) , hand-held data loggers, aircraft/rocket design stations, wind tunnel, flow-visualization tunnel, weather stations, 3D printers, mobile robotic stations (ground and aerial), and experimental setups to cover various course topics related to STEM education.
The Unmanned Aerial Systems sector of the laboratory currently houses DJI Phantom Vision 2+, DJI Inspire 1, DragonFlyer X-4, senseFly eXom, senseFly eBee Ag, Robo Flight 70, Aeromapper EV2, and QBall-X4, an aerial vehicle platform for advanced research.
ECSU Unveils New Flag
On Tuesday, July 19, 2016, ECSU Chancellor Thomas Conway spoke to a crowd of students, faculty, staff and surrounding community members as he dedicated the raising of a new university flag. The flag will fly adjacent to the university's new main entrance, scheduled to open within the next several weeks.
Chancellor Conway said when he took over as head of ECSU last January, he was greeted by staff and faculty members who have made it their goal to find ways to bring ECSU out into the surrounding communities, and bring those communities in, to be a part of the ECSU family. The new flag, he says, is a symbol of that community cooperation.
"The goal here is to fly the flag with pride, and ask the community to fly it, too," said Chancellor Conway in an address during the ceremony. "We want people to know that you're connected to ECSU, and we're connected to you."
Students become Viking Volunteers
Volunteering is the Viking way and ever since the Viking Volunteer Corps was officially launched in August 2016, students have been signing up to do their part. According to, LaQuisha Mayfield, admissions counselor and one of several volunteer coordinators, by September, 33 Elizabeth City State University students had signed on to become volunteers.
Some of the volunteer opportunities include delivery of meals to elderly shut-ins through Meals on Wheels, being a Boys and Girls Club mentor, working with one several non-profits in Elizabeth City or working on campus assisting with the Chancellor's Color Run or Homecoming activities.
ECSU, Coast Guard Sign Agreement
In a ceremony during the regular September 2016 Elizabeth City State University Board of Trustees meeting, Chancellor Thomas Conway and Coast Guard Rear Adm. Meredith Austin signed a memorandum of agreement that will bring the two organizations together to better educate future Coast Guard leaders.
The purpose of the memorandum is to strengthen the relationship between ECSU and the Coast Guard. That relationship will assist the university in better offering educational opportunities to service members while also giving the Coast Guard the opportunity increase its military officer recruitment efforts.
The university will provide courses to service members and their families and the Coast Guard is committed to supporting ECSU programs such as aviation technology. According to the memorandum, ECSU will identify opportunities for students, and opportunities for faculty research in areas that are of interest to the Coast Guard.
In addition, Cmdr. Bruce Brown, commanding officer of Base Elizabeth City, will form a chamber of commerce and military affairs committee on campus, establish a Coast Guard presence at university ceremonies, and create more Coast Guard College Student Pre-Commissioning Initiative (CSPI) scholarships for ECSU students.
ECSU, Several Community Colleges Ink Agreements
In an effort to bring higher education to as many Northeast North Carolina students as possible, ECSU and several regional community colleges entered into agreements that will provide students an opportunity to earn a bachelor's degree without leaving their hometown.
Halifax Community College, Roanoke Rapids Community College, and Beaufort Community College will offer their students an opportunity to earn an associate's degree and then a bachelor's degree while staying on their hometown campus.
The degrees currently being offered are criminal justice and social work. Students will have the advantage of taking classes on their community campuses while receiving the full benefit of ECSU's faculty and staff.
---