2015 ECSU Graduate Jasmine Downing is a Navy JAG Attorney
Posted On October 2, 2019
---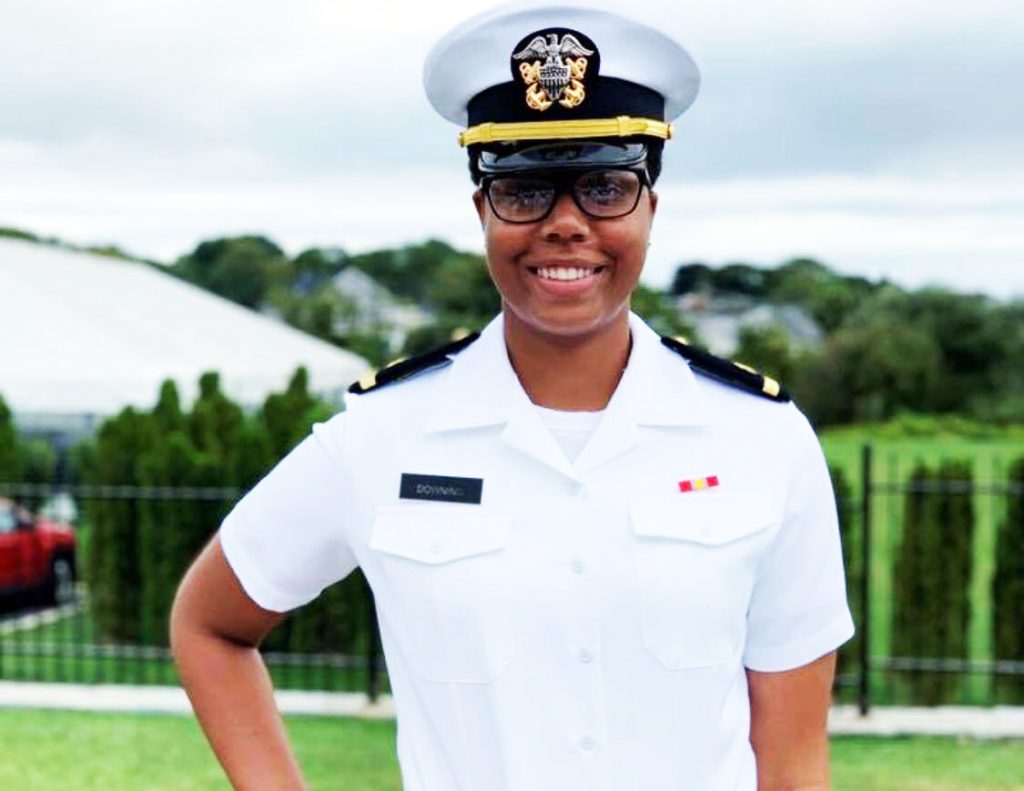 Lieutenant Junior Grade Jasmine Downing is living out her dream. The 2015 Elizabeth City State University graduate knew she would be an attorney, and when she put her sights on the U.S. Navy, she found her way to the Judge Advocate Generals Corp (JAG).
Lt. Downing had a dream of becoming a lawyer beginning at age six, she recalled. She knew from that point forward that it would only be a matter of time.
"My parents used to tell me I had a lot of mouth," said Lt. Downing. "I guess that's a good thing (for an attorney)."
She grew up in Edgecombe County, North Carolina, and when it came time to choose a university, there were a number of schools on her list.
"I always had good grades so when it was time to choose a school, ECSU said you can come here and it would be free because I had a few scholarships."
Lt. Downing says she wanted to make it through her undergraduate studies without student loans.
"I knew I would go to law school and I would have student loans there," she said.
So she came to ECSU where she would major in political science. She had two professors in her major, and small class sizes, and those two factors helped her focus on her studies, and get the most out of her education at ECSU.
"I was never overwhelmed with class sizes," Lt. Downing said. "I ended up finishing with a 3.9 GPA in three and a half years."
Lt. Downing took the LSAT, the law school entrance exam, in October 2015, months before her December graduation. She would work as a manager at a Waffle House before being accepted into North Carolina Central University's program.
In the interim, however, she had also inquired about joining the Navy. She says it was an idea born out of admiration for the military – her brother was in the Navy – and she figured she could pay for law school through her service.
But Lt. Downing wouldn't be ready for service just yet.
"They said I was under-weight," she recalled.
So the Edgecombe County native enrolled at NCCU law school, and that's where her future not only as an attorney was cast, but also as an officer in the Navy.
At NCCU, there was a military career fair. Lt. Downing spent two hours, she said, talking to a Navy recruiter. She had no idea that she could serve as an attorney in the Navy until that day.
While a law student, Lt. Downing would work as a legal intern, both for the Navy, and for a public defender's office. In October 2018, she was officially commissioned as an officer, less than one year before she would graduate from law school.
Lt. Downing passed the bar exam last month. She is now a full-fledged officer in the Navy, and she is preparing to leave for her training as an attorney in Newport, Rhode Island later this month.
She's looking forward to making a career in the Navy, serving as a JAG attorney.
"I plan on doing 20 years (in the Navy)," she said. "I need my student loans repaid, for one. I feel like it's a good balance for me. I don't have kids. I am not married. I can travel the world. It gives me the opportunity to litigate cases; high-profile, very interesting cases and I'm looking forward to that."
There's no telling what Lt. Downing will do after 20 years in the Navy. She says it will likely have something to do with giving back to her community, and perhaps even her alma mater.
In fact, she's mentoring an Edgecombe County youth now, and will be bringing her to ECSU's next open house, possibly making her a future Viking graduate.
---