2012 Great Decision Lecture Series February 9 – April 5
Posted On February 6, 2012
---
Bonnie Winston
February 06 2012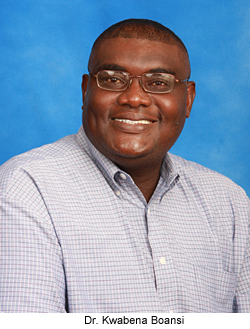 Global issues from cybersecurity to the wave of recent uprisings known as &quotthe Arab Spring&quot will take the spotlight during the 2012 Great Decision Lecture Series at Elizabeth City State University.
Hosted by the Department of History and Political Science the series features eight lectures that are free and open to the public. Each deals with a timely foreign policy or international issue chosen by the Foreign Policy Association a New York-based nonprofit that started the public education initiative. Students faculty and people at universities high schools and public forums across the country will be discussing the eight topics.
At ECSU the series starts Thursday Feb. 9 with &quotMexico: Transborder Crime and Governance&quot presented by Dr. Kwabena Boansi of the ECSU Department of History and Political Science.
Each of the lectures will be held from 3:30 to 4:30 p.m. in Moore Hall room 246 on the ECSU campus.
Dr. Kwabena O. Boansi organizer of the series at ECSU said the lectures are designed to encourage debate and discussion of the important global issues of our time. University and high school students faculty teachers and residents of the region are welcome to attend. ECSU faculty experts will lead the lectures which will continue through early April.
The remaining schedule:
Feb. 16:Â &quotMiddle East Realignment: The Arab Upheaval&quot Dr. Dr. Naginder Dhillon professor emeriti Department of History and Political Science.
Feb. 23:Â &quotExit from Afghanistan and Iraq: Right Time Right Pace?&quot Dr. Margery Coulson-Clark associate professor Department of History and Political Science.
March 2:Â &quotCybersecurity: The New Frontier&quot Dr. Lynn Barnes associate professor Department of Criminal Justice Sociology and Social Work.
March 8:Â &quotState of the Ocean: Waves of Change&quot Dr. Glen Bowman professor Department of History and Political Science.
March 22:Â &quotPromoting Democracy: Foreign Policy Imperative&quot Dr. Shahid M. Shahidullah professor and chairperson Department of Criminal Justice Sociology and Social Work.
March 29:Â &quotEnergy Geopolitics: Quandaries Intensify&quot Dr. Jingbin Wang assistant professor Department of History and Political Science.
April 5:Â &quotIndonesia: Prospects for Prosperity&quot Dr. Ebere Oriaku professor and chairperson Department of Accounting
---