150 Attend Campus Safety Night Walk
Posted On February 12, 2018
---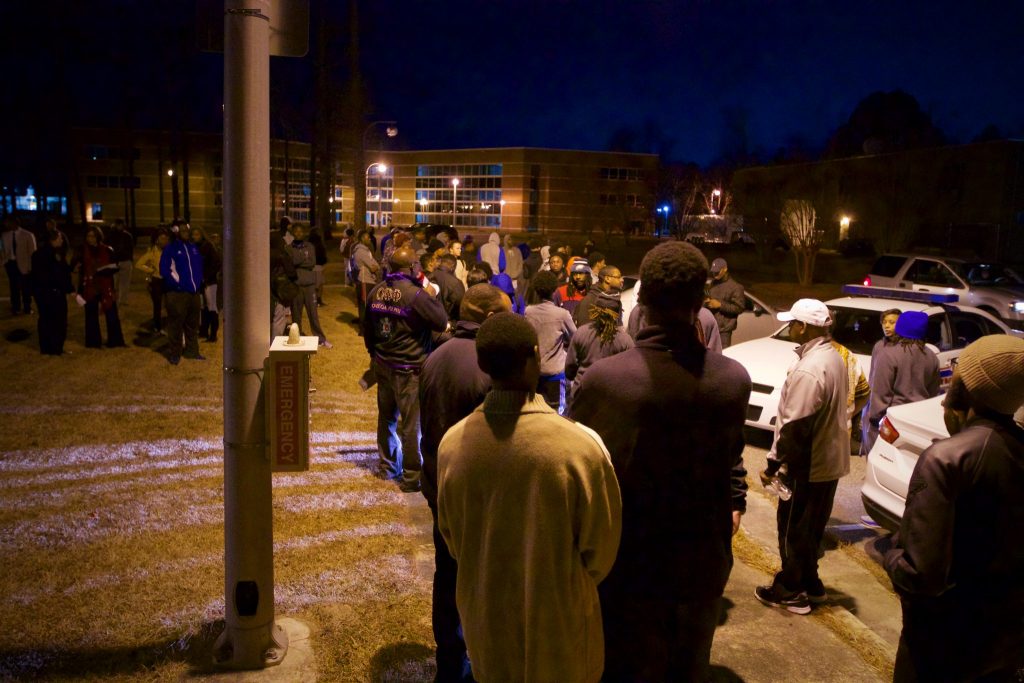 More than 150 students attended a campus night safety walk on Feb. 1. The walk's aim was to highlight campus safety features such as the numerous emergency call boxes, and to receive feedback from students about safety issues.
There were more than 150 Elizabeth City State University students walking across campus one night earlier this month.  It was a walk with a purpose, a journey to discover what sort of options they have when it comes to campus safety.
The Feb. 1 night safety walk was organized by the ECSU legal department's Alyn Goodson, and the campus police department. Goodson, the university's attorney, said the idea of the walk is to familiarize students with various safety options across campus, and to get feedback from them.
"What's important is the feedback," Goodson said during a recent ECSU working group meeting.
The students were accompanied by representatives from the faculty and staff senate, as well as university police. They were shown the various locations of the emergency call boxes and how to use them, and the team of faculty and staff took notes on the students' responses and requests.
The call boxes located around campus allow students to call 911 directly. Goodson explained that when a person picks up the call box phone, "All officers get a real time report." In other words, in the event of an emergency, the campus emergency personnel are notified on the spot.
Each call box is also identified with a blue light. When you see the blue light, you know there is a call box available at that spot.
Goodson said there were four stops on the walk. At each stop the students were able to discuss their thoughts, and offer suggestions.
"Generally all of the students feel good about campus safety," said Goodson.
Students offered several items that can improve the campus safety experience. Goodson said while the overall impression of outdoor lighting is positive, there are areas where they would like more; students also said more surveillance cameras would be welcome; more call boxes is another and three more locations should be added. In addition, the blue lights will be made more visible across campus.
Goodson said all of the items are being addressed. He said the campus will be kept updated on the action.
"What we're committed to doing is keep students informed about the progress," said Goodson, who added that this effort is a good "bridge between students and administration."
Last month ECSU launched the Safe ECSU webpage, providing students, faculty, and staff with a comprehensive resource list designed to offer quick access to all campus safety information.
This resource offers access to directions on reporting crime or safety concerns, access to the university's safety policies and procedures, information about student support services, and other campus safety-related information and resources. To see the webpage go to http://www.ecsu.edu/safe/ .
---