Suresh Murugan is ECSU's next Chief Information Officer/Chief Information Security Officer
---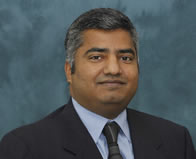 Kesha Williams
May 15, 2015
After completing a nationwide competitive search facilitated by a committee consisting of ECSU staff and administrators, Chancellor Stacey Franklin Jones announces Mr. Suresh Murugan as ECSU's next Chief Information Officer/Chief Information Security Officer.
Mr. Murugan is a solution-oriented, security professional with over 17 years of experience in providing infrastructure technology architecture and data center architecture solutions to financial and educational institutions.
He realizes the strategic importance of developing and implementing a competitive technology infrastructure which is a critical component in moving Elizabeth City State University forward on its &quotPath to Prominence&quot. Mr. Murugan holds a Bachelor's degree in Electronics and Communication Engineering from Bangalore University and a Master's degree in Electrical and Computer Engineering from Louisiana State University. He is also a Certified Information System Security Professional (CISSP). His detailed biography may be found here.
Mr. Murugan will begin his work at Elizabeth City State University on June 1, 2015.
Please join me in welcoming Mr. Murugan to ECSU.
---